Meet the Maker: Pia Bramley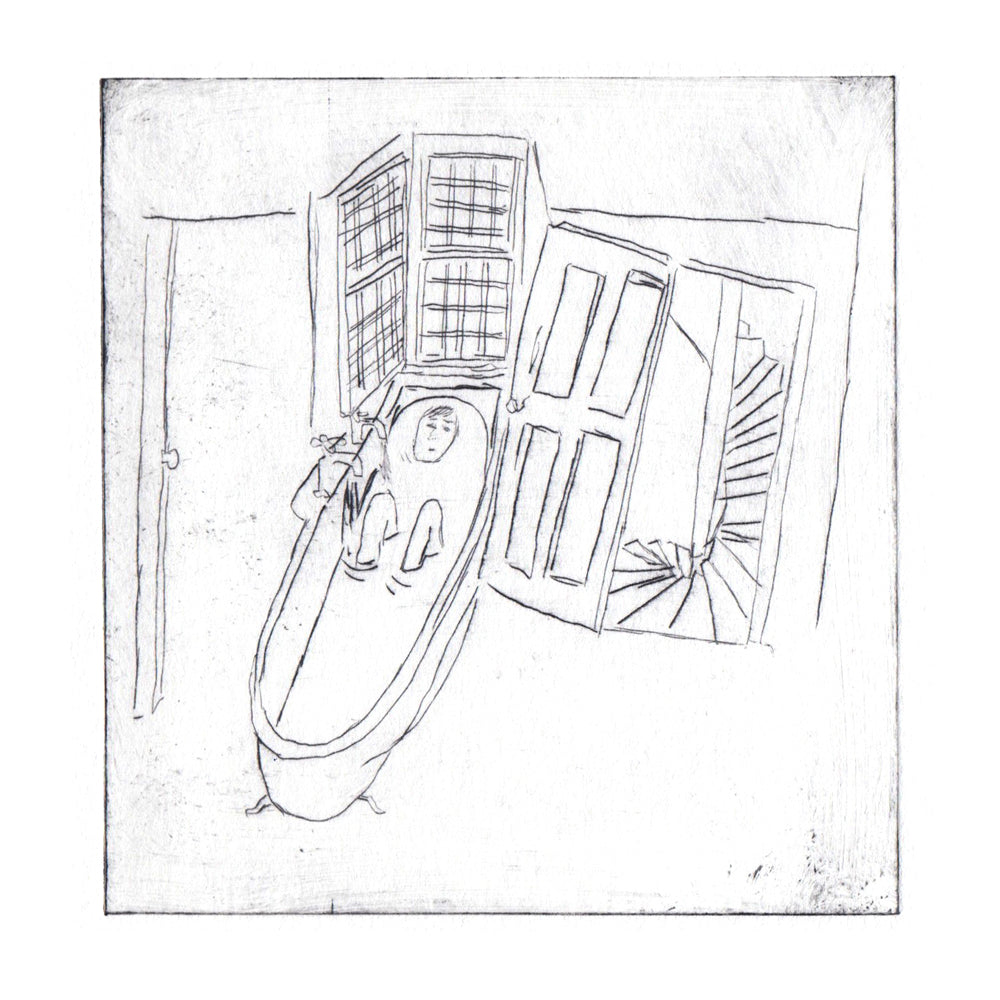 I'm an artist, illustrator and printmaker. Having left London after a decade of city life I now live and work in The New Forest, squeezing in drawing and printing around caring for a three year old.
How and where did you learn to print?
I did my foundation at KIAD (formerly Maidstone College of Art, latterly UCCA and now completely extinct!) and there was a brilliant printmaking department, with enthusiastic tutors who had time to give one-to-one guidance so I was lucky enough to experiment with etching, lithography and screenprint. I moved on to study illustration at Brighton but never quite mustered up the confidence to use the print studios when I was there. It required booking a time slot and really knowing what you were doing, which just felt too intimidating, so I abandoned printmaking for a long time and spent the next decade focussing on drawing  and wandering around London.
A few years ago I began evening classes in East London with a brilliant tutor called Anna Dyke. The studio in Shadwell was in the roof space of an old school building, so beautiful and atmospheric and just a short walk from my flat in Whitechapel. Anna demonstrated all the different types of printmaking but allowed students to develop their own work really freely, providing really personal guidance and encouragement. I joyfully flailed my way through a few terms of classes before really getting stuck in to my own way of working, falling for woodcut and monotype but feeling most excited about drypoint as it's the closest thing to drawing.
Why printmaking?
My drawings tend to be really fast, taking just a few minutes to make. Printmaking is a great challenge as it cannot be rushed - it feels like I'm using an entirely different piece of my brain to that which does drawing. It forces to me measure, plan, be methodical and patient - skills in which I'm deficient in in all areas of life.
I think of the relationship between printmaking and drawing as symbiotic - the print begins as a drawing but my drawing has been improved enormously by my experience of printmaking, pushing me to really think about composition and how to use space to serve your image.
Describe your printmaking process and where you work.
My studio is the kitchen table, at home. When I left London I struggled to find an open access printmaking studio and don't have the space or money to set up a permanent print studio at home. As is so often the case, having to adapt has been really beneficial. 
I make all my prints using a plastic Sissix Die Cutting Machine. I use the larger model that lets you work up to A4, it's called a "BIG SHOT' which cracks me up every time I say it out loud but it works really well for someone like me who prints small (most of the plates are only a few cm) and needs to get set up quickly so I can get as much done as possible in the few hours I have each evening after my son has gone to bed and before I start falling asleep. It's not as beautiful or graceful as rolling your prints through a heavy roller press but it's an inexpensive machine that you can shove under the bed when you're not using it, and it does the job pretty well. The only tricky part of the process is trying not to blob ink onto pale carpet in our rental house.
How long have you been printmaking?
After a bit of mucking around for a decade I would say that I've been doing it seriously for two years.
What inspires you? 
My work is about ordinary things that I notice, or remember, sometimes other people's stories or films or music too. It's great that I find mundane things a source of inspiration, so I can go through my day gathering ideas. I don't have lots of time to draw or print but can feel like I'm working in my mind even when I'm busy in my daily domestic life.
Printmakers that I admire include Louise Bourgeois, Marc Chagall, Enid Marx, Gertrude Hermes, Dora Carrington, Eric Ravilious, Edouard Vuillard and Mary Cassatt. I really love Beryl Bainbridge, most famous for her books but she also made wonderful paintings and etchings, too. Full of sadness and humour and the kind of domestic detail that I strive to achieve in my pictures, too.
What is your favourite printmaking product?
My set up is pretty makeshift and don't have much specialist kit, apart from the marvellous BIG SHOT machine. I raid the kitchen for most of my supplies, wetting the paper with a washing up sponge and spreading out ink with a teaspoon. When the prints are finished I lay them all out to dry on teatowels overnight then press them flat under a pile of heavy cookbooks.
I do love Caligo Ink but I find them sticky and tricky to use in a domestic environment so nowadays I mostly use the Akua Intaglio ink in Paynes Gray.
What have you made that you are most proud of?
The challenge for me is to retain the energy of a drawing in each print, and I like the idea that a mark made in one fleeting moment can be repeated indefinitely and still transmit a feeling of vitality. I have found that trying to turn a drawing I've already made into a print is really tricky - it somehow always turns out weaker than the original drawing. Something in the feeling of the line gets lost, and I've wasted many hours endlessly adjusting a print to try and make it work before accepting defeat with furious and flamboyant swearing before chucking the whole lot in the bin.
I've now stopped trying to turn a drawing into a print and have begun to make drawings specifically for drypoints, thinking about the possibilities of the medium that drawing does not offer, experimenting with cutting the plate into different shapes (Man In Shower) or assembling an image from more than one plate (Baby Monitor) and these are some of the prints that I see as my most successful.
Where can we see your work? Where do you sell?
I never quite get around to setting up a proper website and I mostly sell prints through Instagram - people message me about a print they like and I post it out. I have done a few print fairs too, which have been great as it's been a way to meet other artists working locally, as since moving out of London I have felt pretty isolated.
I recently read that someone had described me as 'an artist who exists partially within Instagram' which is undeniably true but gave me a bit of a sharp kick. I think it's important that my work exists mostly outside of Instagram so I'm currently making some new work that will exist in the off-screen world, including a new book project that has brought me into entirely new realms of fun and frustration.
What will we be seeing from you next?
In recent years (since having a baby, moving out of London and being locked down) most of my work is small scale and personal and each drawing only takes a few minutes. I'm now beginning to work towards some more developed work that explores things beyond my own front door. I've been pretty content with solitary working for a while but I've had a few really fun creative collaborative experiences this year and I've started to crawl out of my cave and make connections with other artists and organisations that I hope will bear fruit over the next few years.
Do you have any advice for other printmakers and creatives?
Try to be born to rich parents. And if that doesn't quite work out then…just make work! Draw, print or paint but don't wait for an idea to strike. I've wasted time waiting to have enough time or space or money to get started but you just have to make things however and whenever you can and the process will reveal what is important and exciting and fascinating to you.
To see more from Pia, follow her on Instagram!