Meet the Maker: Print now-Riot later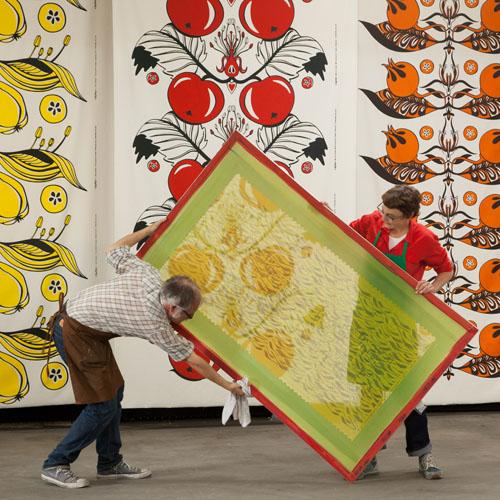 Hi, we're Ellen Wagner and Axel Roessler, we live in Frankfurt/Germany and share a passion for screen printing. Our screen printing studio "Print now – Riot later" was founded in 2014 in Tucson/Arizona, where we have lived and worked from 2014 – 2019. Having left the dusty desert behind us, we have been pursuing our passion for screen printing in the freshly furnished workshop rooms in Maintal since summer 2019. Here we dedicate ourselves to textile screen printing and explore the creative possibilities of fabric pattern printing.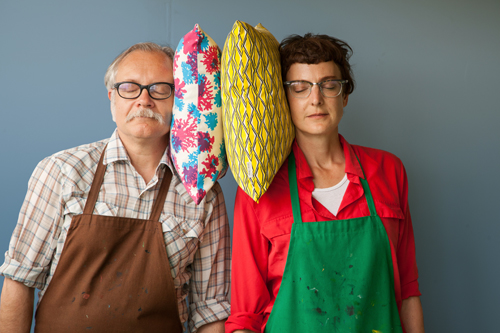 Describe your printmaking process.
Before the actual printing, we concentrate on the idea, compile images for a mood board and start sketching, either with pen or ink. In some but not all cases we use the usual Adobe software tools to modify the first drafts, Axel sometimes uses Cinema 4D to generate templates. As we're screen printers there's always the extended chain of preparation: cleaning and coating the screen, transferring the artwork on transparency and exposing the screen, retouching, and exposing another time.
Of course, the printing process is where the fun begins. When printing yardage, we always do it together because our screens are really huge – so we stand vis-à-vis and hand over the squeegee in the middle of the screen while printing. It took a while to get to know all the tricks with the amount of pressure, the consistency of the ink, the number of strokes and so on. We have learned that especially when it comes to textile printing there isn't the right way to print that will always give you top results. It's all trial and error, learning from your past mistakes and not giving in too fast. Printing on textiles – and we're not talking of T-shirts here – is quite a challenge.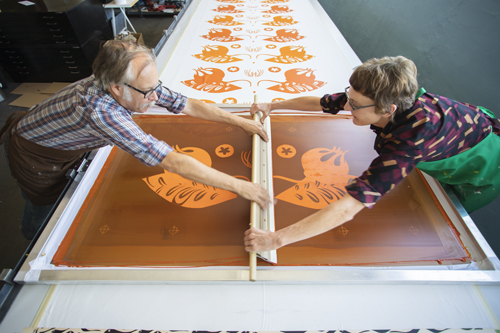 How and where did you learn to print?
We started round about 2010. Ellen took a screen printing class while at the University of Art and Design in Offenbach (close to Frankfurt) and immediately knew that this might be THE thing for her, and it didn't take too long to convince Axel that this medium would be a nice tool of choice for expressing creative ideas – and she was right.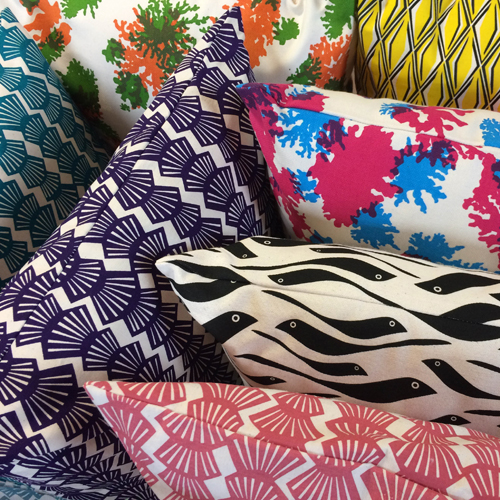 Why printmaking?
In printing, we both can bring together our aesthetic preferences and graphic ideas although we have totally different backgrounds: Ellen is a graduate illustrator and graphic designer; Axel has been working in the field of 3D and motion design for many years. We're not big fans of pushing pixels all day, it's more the idea of keeping on with a traditional handcraft that seems fulfilling to us. Of course, we know that working with graphic software is a lot of fun, but the authentic work with ink, the work with "real" tools (without the choice to go back a few steps in a couple of clicks) and the charming imperfections seem to be more rewarding for us in the end.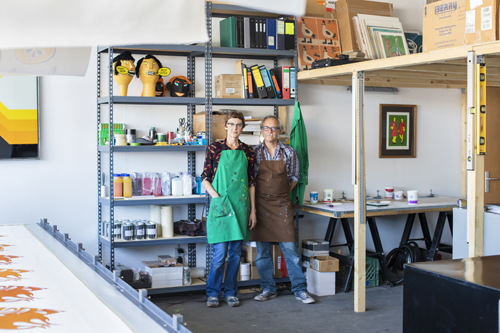 Where do you work?
We're happy to have our own printing studio in the industrial area of Maintal, a small village close to Frankfurt. We go by bike every day as we don't own a car, and it takes us maybe 40 minutes to get there – it's our daily exercise (besides printing). In the same building, our landlord runs his own screen printing studio, and we've learned a lot from him – he's extremely helpful, funny, a problem solver and has been in the printing business a long time. He teaches screen printing at the University of Art and Design, so we're more than happy to have him around.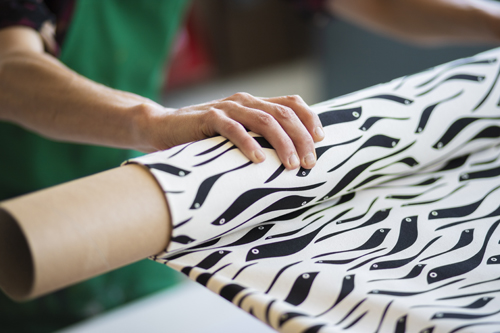 Describe a typical day in your studio.
There's no typical day, not at all, but every day starts with making coffee first. The next step depends on what we're on: probably adding the next colours to a poster that we started a day ago, maybe signing and storing some finished prints, shipping some orders, and coating the screens for the next day. At the end of the day, we always clean up so that it feels good to open the doors again the next day. What we do not do in the studio is work on designs – we both like to do this in our homes as it's much easier to concentrate and focus on the ideas in our own four walls.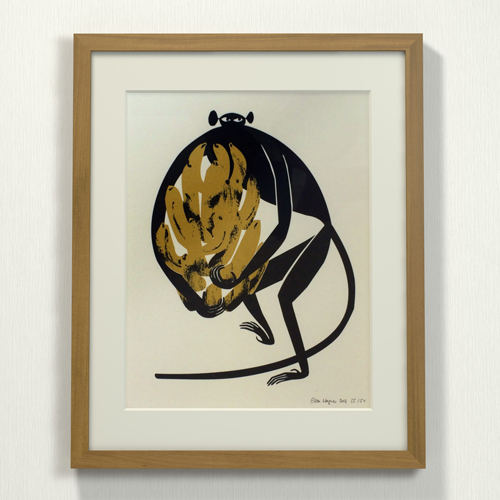 What inspires you?
At the moment the design concepts of the whole mid-century modern era have the strongest impact on our own output: geometric shapes in play, folk art transcribed into new forms. It still seems like an era full of new and fresh ideas. We feel that the 70s get more and more influential for us too, but one may not recognize this in our work (yet).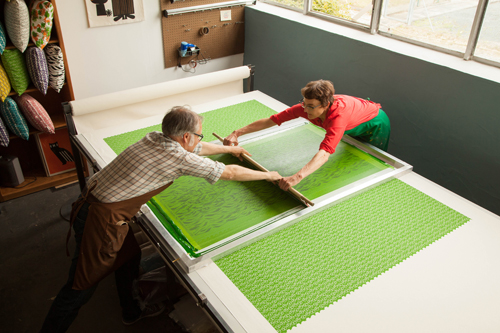 What is your favourite printmaking product?
We could talk a lot about our favourite ink systems here but decided to go in a more exotic direction: for us, it's maybe the sidekick that keeps the screens in the elevated position when we print on paper. After losing too much hair and/or getting ink on the head while trying to hold the screen in the lifted position, the purchase of this made things so much easier.

What have you made that you are most proud of?
For us, it's our three wall hangings that we really like most. Ellen designed the squirrel gang, Axel went into the abstract direction with the 'Sanskrit' motif and then there's our favourite collaboration yet: The 'Knobbly tree', designed by Adam Higton. All three were fun to print and we love them!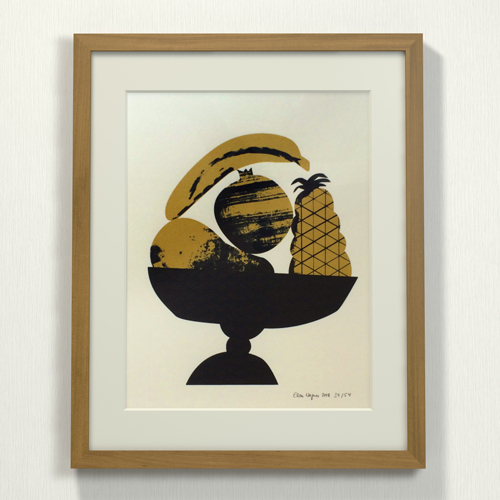 Where can we see your work? Where do you sell?

Well, these are special times, and because of the pandemic, the possibilities to show our products in a direct way to people like in a market were, well, more than limited over the last few months. We have our own website with an online store and we're selling our goodies at Selekkt/, a well-curated online store for all things handmade. Oh, and there's Instagram – at the beginning, we were kind of suspicious about social media, but now we love it and have made a lot of connections that we don't want to miss.
What will we be seeing from you next?
Good question. We can't name a specific product, but in general, we feel that we want to focus more on the art-related output – that may result in a poster series, a wall hanging or an object we haven't done yet. We always feel that our best work is still ahead of us!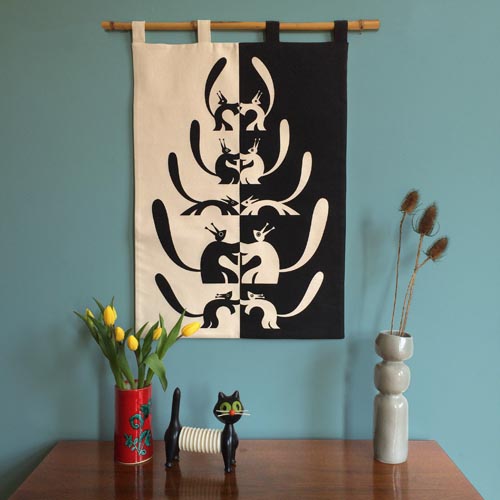 Do you have any advice for other printmakers and creatives?
Don't be afraid of mistakes, don't compare yourself to others all the time, listen to your heart and stay focused. It's okay if an idea takes days or weeks to unfold as it's always the result that counts.
To see more from Ellen and Axel check out their Instagram.