Meet the Maker: Rachael Hibbs
I'm Rachael, owner and founder of RLH Prints. I am a linocut artist and illustrator specialising in botanically inspired artwork. My process involves hand carving and printing my lino blocks on a traditional style etching press.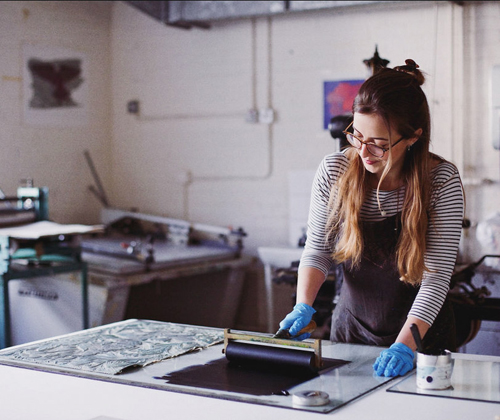 How and where did you learn to print?
I studied fine art at university however it wasn't until after I left that I began to explore printmaking. I got a job as an art technician in a private school and they had a beautiful old press that I was able to experiment with.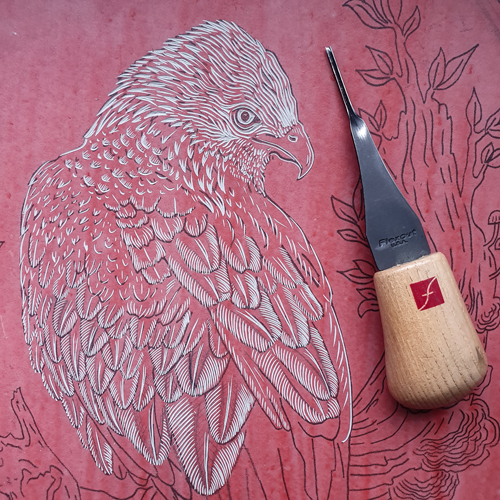 Why printmaking?
Because even after years of doing it you never know what you will end up with when you pull that first test print. I love the range of textures you can get from the medium of lino print, and the carving side is purely meditative for me.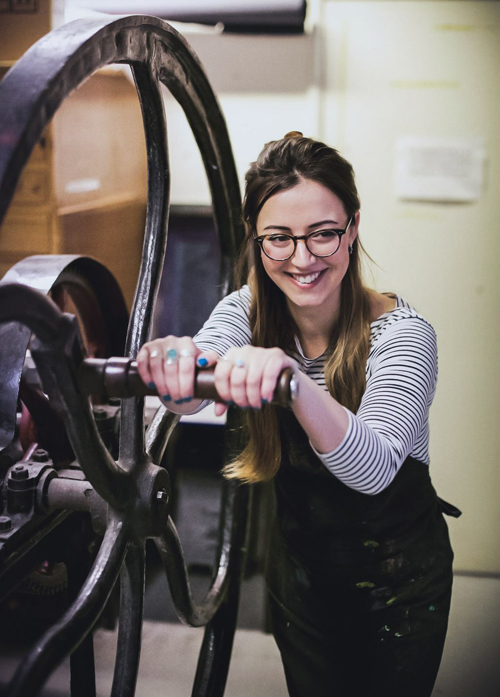 Where do you work?
Currently, my front room in my 1 bed flat has doubled as my art studio/ packing room/ office. I am also lucky enough to be able to use the amazing print facilities at my work where I work as a printmaking facilitator.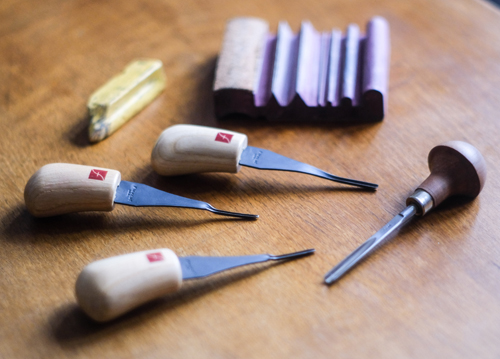 Describe a typical day in your studio.
If I'm working from home I generally make myself a coffee and do a bit of boring admin or faff about on Instagram. Then I might package some orders and do a post office run before lunch. Later in the day is when I get to print/carve. I have to get the other stuff out the way before I can actually relax and find some inspiration after having a short walk in the park.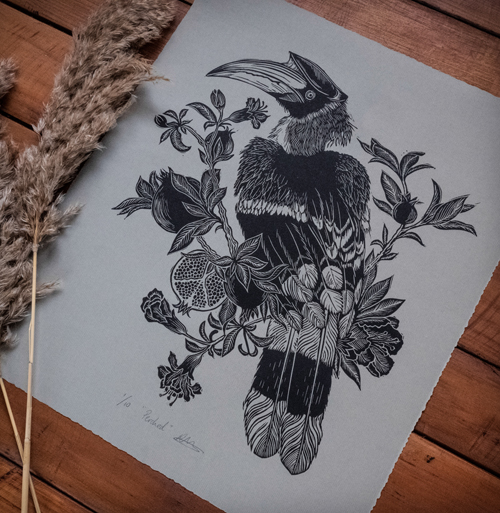 How long have you been printmaking?
I would say I have been printmaking professionally for officially 3 years. Before that I dabbled on and off with other mediums but when I started lino cutting there was no going back.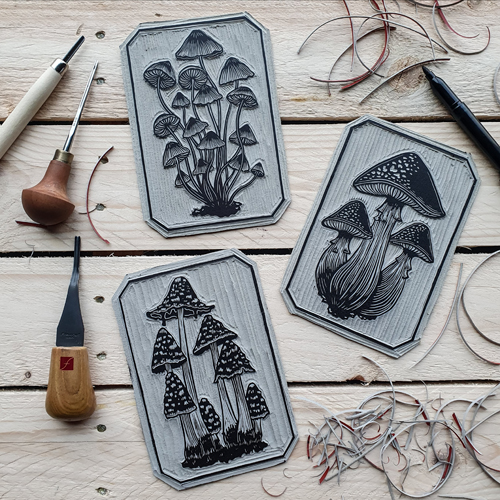 What inspires you?
Mostly the natural world, science and specimens. I absolutely adore the Natural History Museum and Kew Gardens and regularly visit to get inspiration for a new print. I also think macabre Victorian curiosity illustrations have really influenced my work as of late.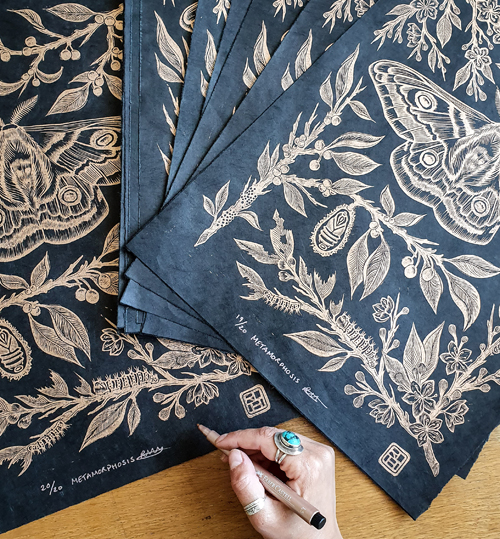 What is your favourite printmaking product?
I have so many but if I had to narrow it down it would have to be Cranfield's metallic inks range. They are just the most beautiful consistency and a joy to print with. It really does feel like your pulling a print made of pure liquid gold magic.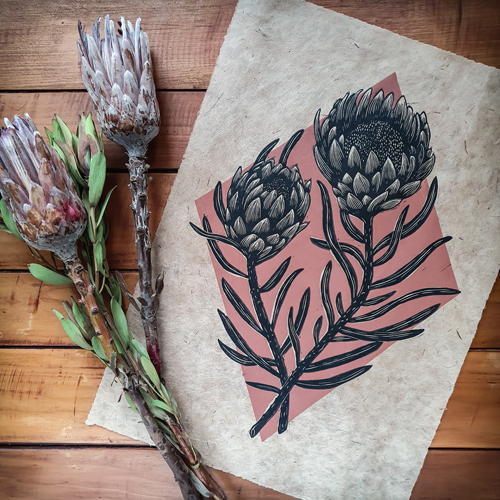 What have you made that you are most proud of? 
Currently, it would have to be my new two-layer block print of a South African Protea flower. I don't often use colour in my work, and mostly revert to black ink. I wanted to experiment with creating some earthy organics tones and introduce a pop of colour in the background while keeping the bold graphic detail in the foreground.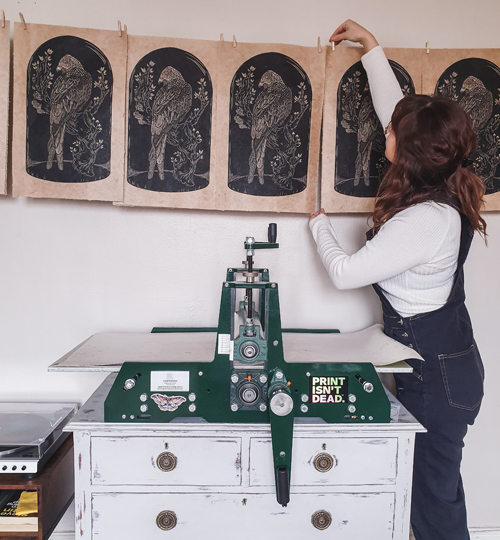 Where can we see your work? Where do you sell?
I mostly sell online through my website. I have a couple of instore shops that will be stocking my prints but they are to be announced! Any updates are always released on my Instagram page first.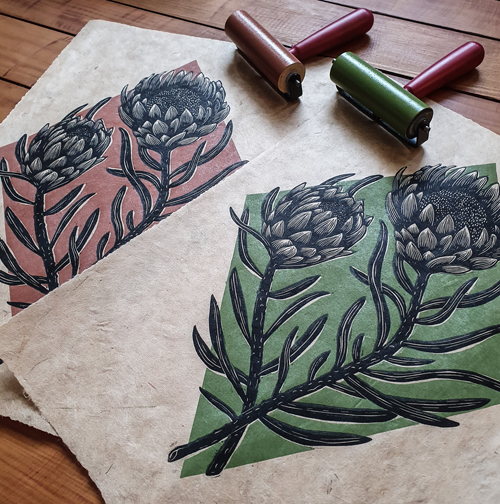 What will we be seeing from you next?
I am hoping to try out some repeat pattern designs for wallpaper or fabric because I also have such a passion for interior design and décor.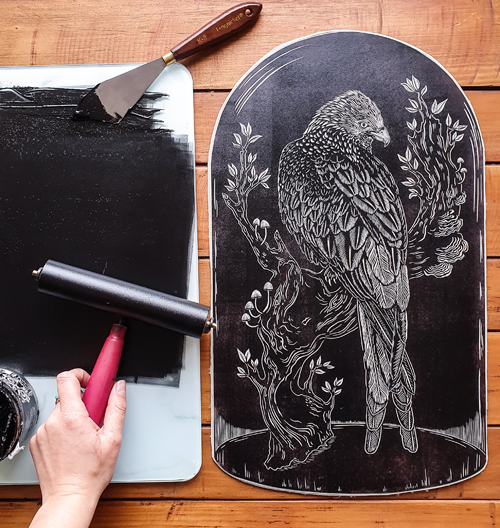 Do you have any advice for other printmakers and creatives? 
My advice would be to immerse yourself in what inspires you. Make art for you and no one else. Also if there are beginners looking to get into linocut you should know that you don't need expensive professional equipment or tools to create a brilliant print! Just keep practising and utilise what you have!
To see more from Rachael check out her Instagram.