Meet the Maker: Sandra King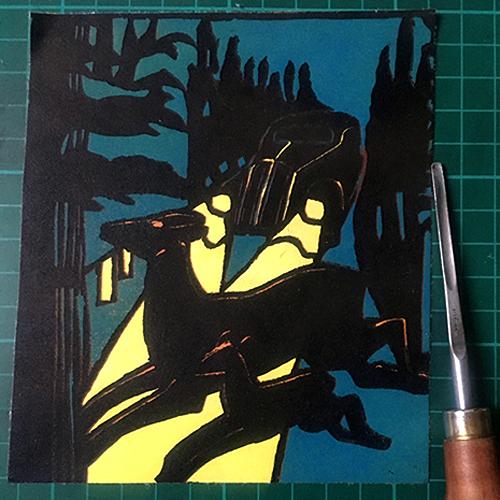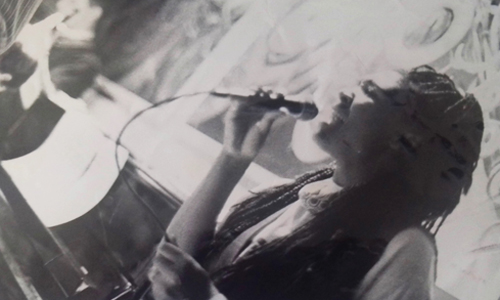 I was born in London and my parents are from Trinidad and Tobago. I have always been creative: I listened to a lot of Jazz, Soul and Reggae music growing up, and later in my life I had the great opportunity of going to the Guildhall School of Music and Drama to study Jazz. I started singing with a Jazz band in pubs and clubs around London in the late 80s, early 90s.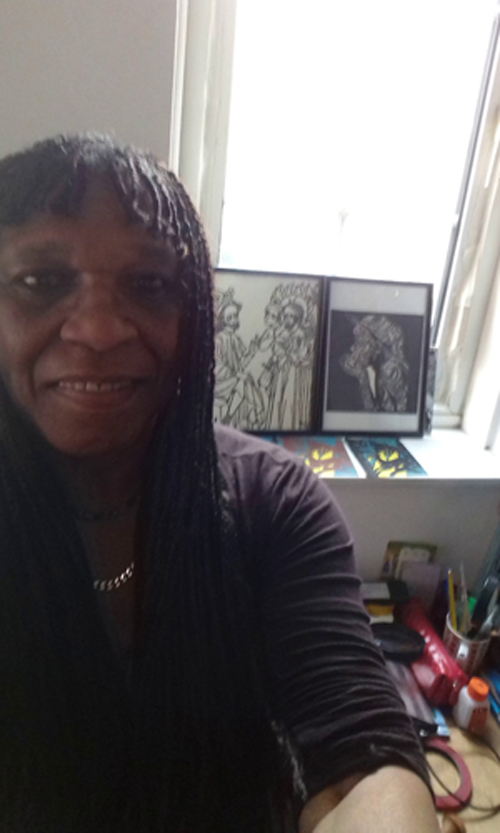 Describe a typical day in your studio?
First a cup of Yogi Tea. Since the lockdown I have been printing a lot, improving my ink to roller ratio (I usually put too much). I try practising with different amounts, using different types of paper and keeping it simple. I usually start early in the morning and think about the photo or picture I want to create onto the lino, and whether I want to use colour or just black and white. Nowadays, I am able to spend most of my time drawing, printmaking, carving, inking and pressing in my small workplace while listening to Chill out, Jazz Blues, Soul and Reggae music.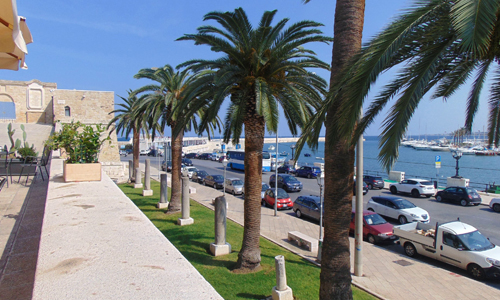 How and where did you learn to print?
I started to learn about printmaking in the South of Italy in Bari, in 2018. I was living and teaching in Italy. I remembered I had brought with me a pack of tarot cards by Michael Goepferd and Brian Williams called 'The Light and Shadow'. The pictures on the cards are done in woodcuts and I loved them. I began to find out the history of printmaking (thank goodness for YouTube), this was where I learnt a lot about lino printmaking. I watched every video I could find on YouTube from the cutting to printing, the different types of tools, inks, paper etc. Finally, I ordered what I needed to begin my printmaking journey. By the time my order arrived I couldn't wait to start, I was hooked.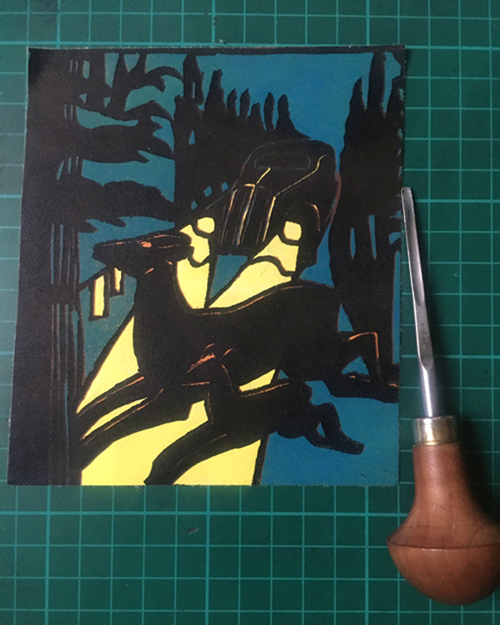 Why printmaking?
I love printmaking because I like working alone. For me, it is another way of being creative beside playing music, where I would normally sing, I now use printmaking to draw, design, experiment with inks and paper plus relax and just be quiet sometimes.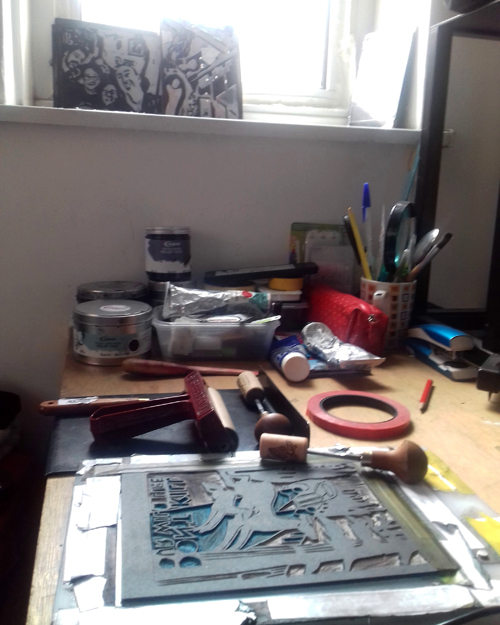 Where do you work?
Since being back in London I work from home in my living room. I have lots of windows and lots of light, it is very comfortable. I am messy so I try to be a bit more organised with the inks, lino, and keeping my Pfeil cutting tools nice and sharp. I am still learning about printmaking therefore working from home suits me.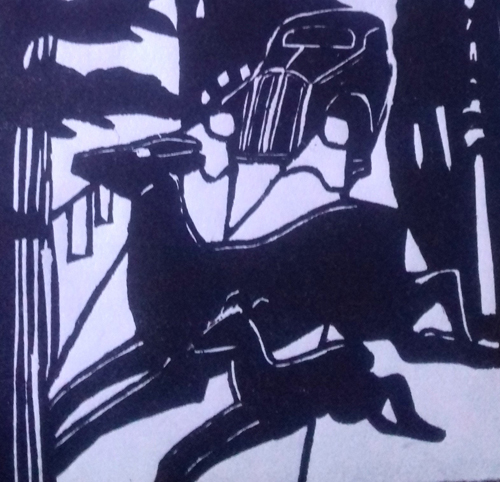 Describe your printmaking process?
I mostly use hessian backed lino and occasionally softcut lino. I look through many types of images, illustrations, and photos (old and new) to create threads of ideas. I sometimes mix up ideas to see the effect they have when I am designing my greeting cards. There is not a particular plan.
How long have you been printmaking?
Not very long, since January 2018. I still have so much to learn. I want to improve my relief printing and learn how to make better registration prints and use different colour combinations.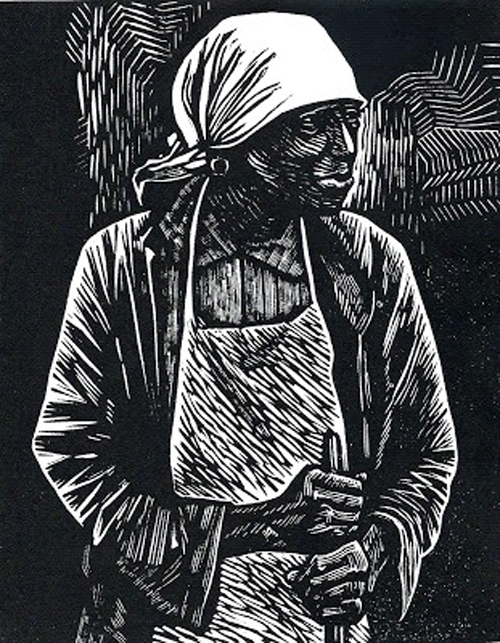 What inspires you?
Music, photography, children, travelling. Other printmakers like Elizabeth Catlett (pictured above). Her images and storytelling, using black and white prints reflect my Caribbean roots which inspires me as well as my English roots.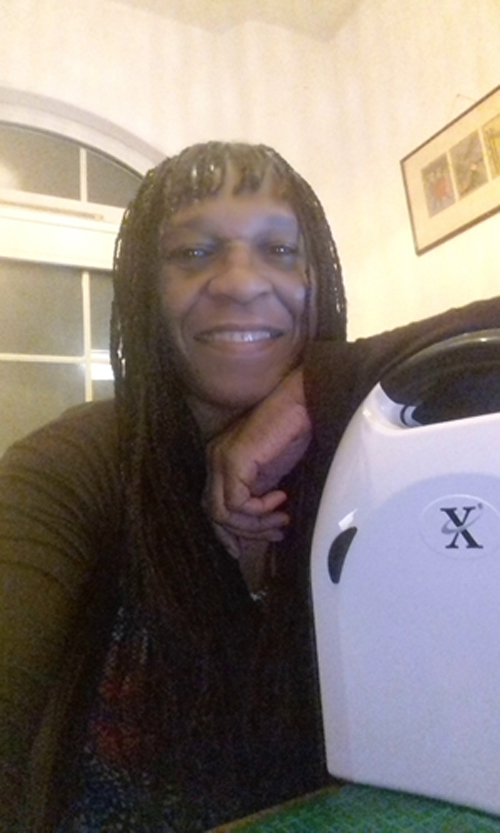 What's your favourite printmaking product?
Oh Wow, I have to say my Xcut press. It is by far the most awesome piece of machinery I have ever bought. With a little of bit experimenting it can produce some very decent prints.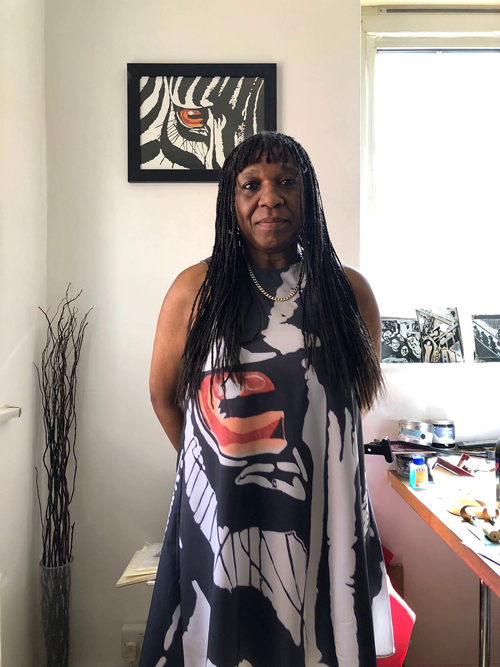 What have you made that you are most proud of?
My first ever reduction block was on a course I did with Steve Edwards at The East London Printmakers Studios, it is called "The Zebra Head". I loved being in the studio with the other printmakers, using the big old press for the first time and getting 6 good prints at the end of it. I later had the print made into a dress.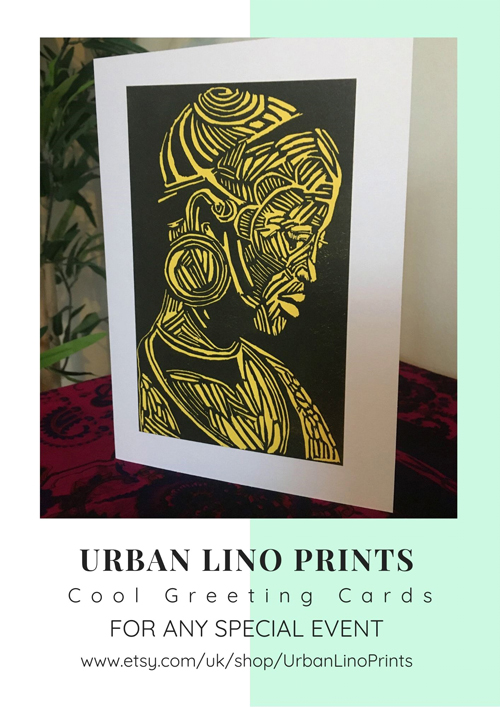 What will we be seeing from you next?
What's next for me is building up my Etsy online shop. Getting traffic and sales, trying different marketing ideas, improving quality and creative content for my greeting cards, getting feedback from customers, in the UK, Europe and around the world.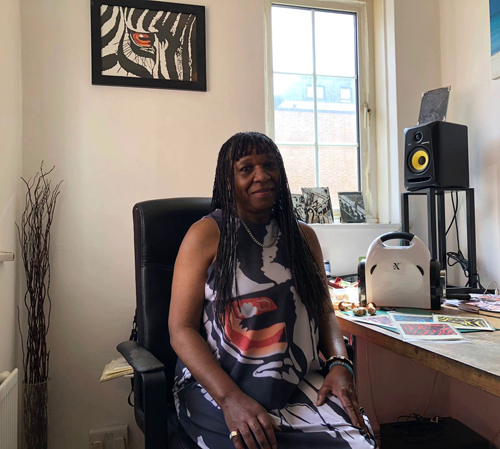 Do you have any advice for other printmakers and creatives?
Make the things that excite you, try not to follow the norm. When something is not working or gets really hard – stop, do something else or leave it till the next day (if you can). Come back and start again and if you are still not happy, ask for help.
To see more from Sandra follower her on Instagram.