Meet the Maker: Sarah Frost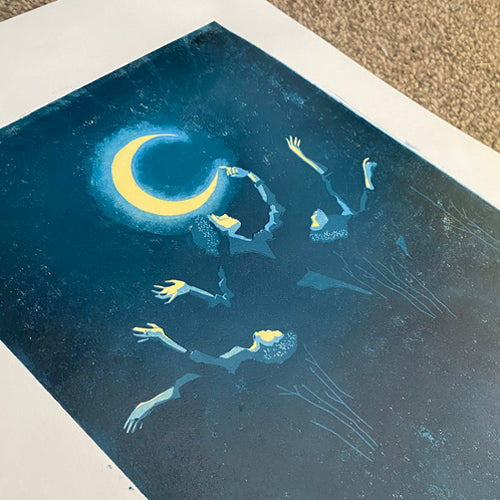 Describe your printmaking process.
When I start a new design, I usually draw straight onto the lino and create the image as I go along. Recently though I have been planning out my prints using Corel Clip Studio on my laptop. It has helped me have a clearer idea of how my final print will look, although I do think I prefer the more haphazard approach of drawing as I go. When I transfer pre-planned prints to lino, I use the slow process of tracing paper and pencil transfer.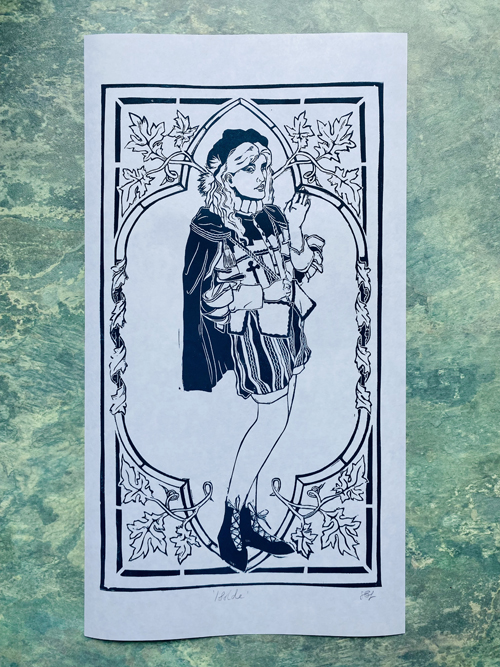 How and where did you learn to print?
I studied Illustration at University and I remember having one day to try out the print room, all I remember is printing an apple and that's it! I decided on a whim to buy some lino equipment during the lockdown and haven't looked back since! I am self-taught and have relied heavily on the printmaking community on Instagram for guidance and help. They're the best!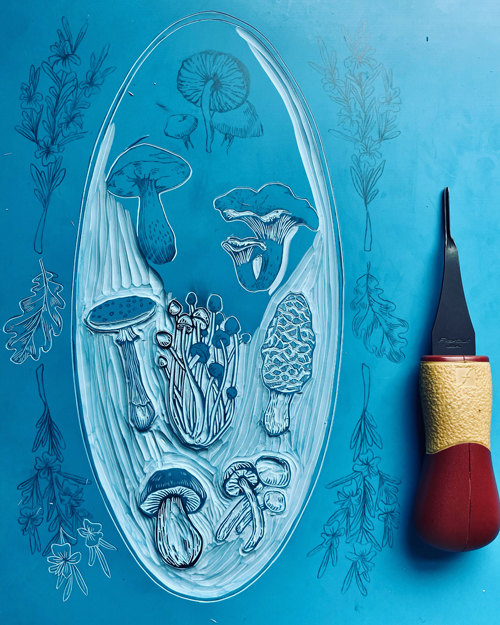 Why printmaking?
There's something about printmaking that transforms simple drawings into something beautiful. I love the texture you get with printmaking and the mistakes! The process is my favourite part, I used to be so impatient when it came to finishing drawings that I would rush everything. Printmaking forces you to slow down and appreciate and enjoy each step in the process. There's nothing better than that first fresh peal from the block.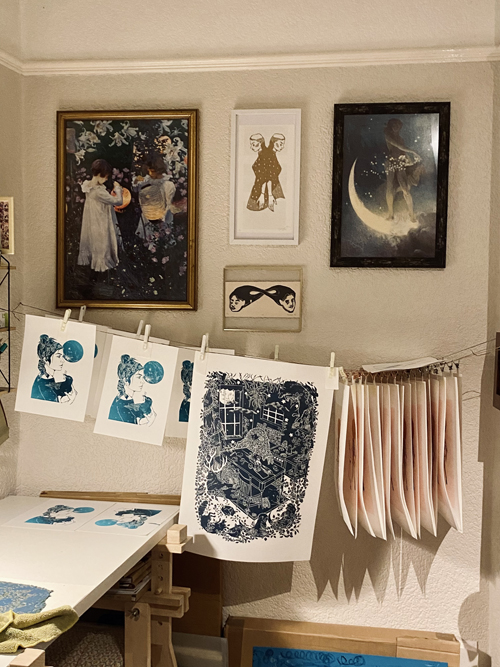 Where do you work?
I've recently moved, I used to have a big basement that I could spread out in and work, but now I just use my bedroom. Before I started lino work, I used to rent a studio space, but now I like the idea of being able to roll out of bed and start work straight away. One day I hope to have a separate room for my studio, but for now, my bedroom will have to do.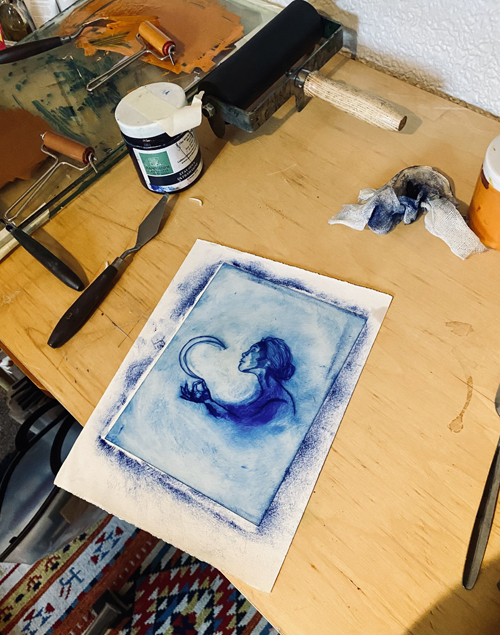 Describe a typical day in your studio.
I work part-time as an outdoor instructor, so I have two days set aside as printing days. I usually start my day either wrapping orders or getting my space organised. Then I'll either work on any new lino I have, or I'll set aside the day to print. I try and work systematically but it all ends up rather chaotic in the end…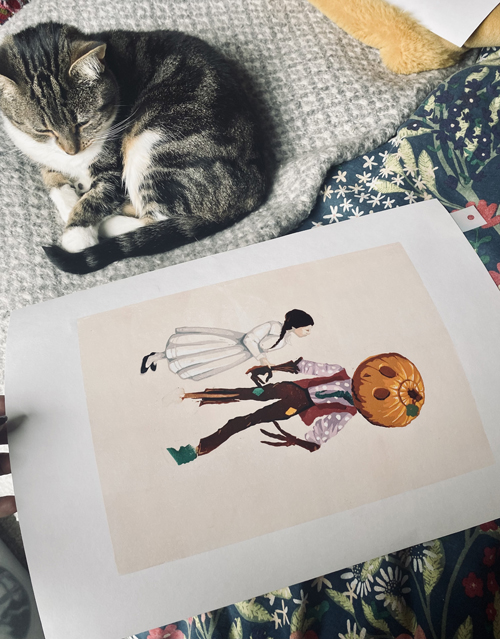 How long have you been printmaking?
I started Printmaking in November 2020 during the lockdown.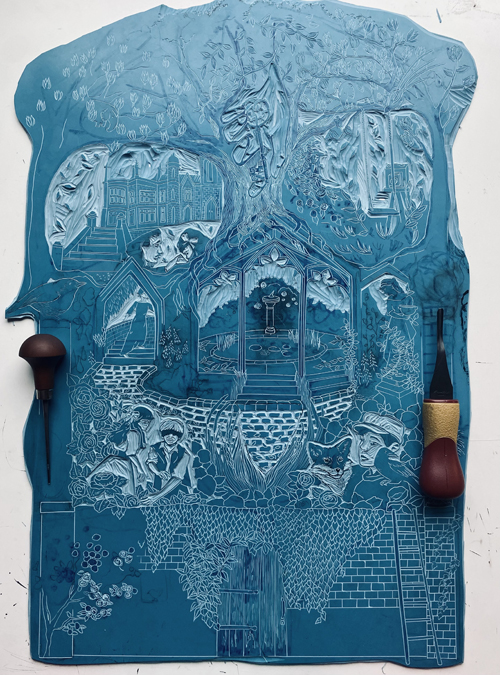 What inspires you?
A lot of things inspire me! Books from when I was a child such as the His Dark Materials series, films like Return to Oz (that one scene in the ornament room!), folklore, music, architecture, pop culture, the Victorian era, cinematography, stained glass windows – It's really hard to pinpoint! My degree was in Illustration, and my work always had a strong focus on images that told stories. I always try to tell a story with most of my prints, for example, I'm currently working on a print based on the 1993 film The Secret Garden and a lot of what inspires me does tend towards the fantastical and macabre.
I also rely heavily on artists such as Christopher Wormell, Arthur Rackham, Egon Schiele, the pre-Raphaelites, Lisbeth Zwerger and so many people in the Instagram print community.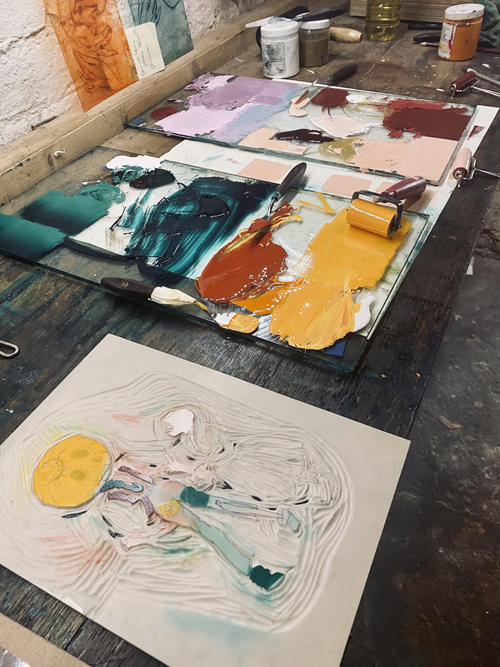 What is your favourite printmaking product?
I would have to say the inks I use. I use Hawthorn Printmaker Inks and the colour range is incredible! They roll beautifully and always print so vibrantly.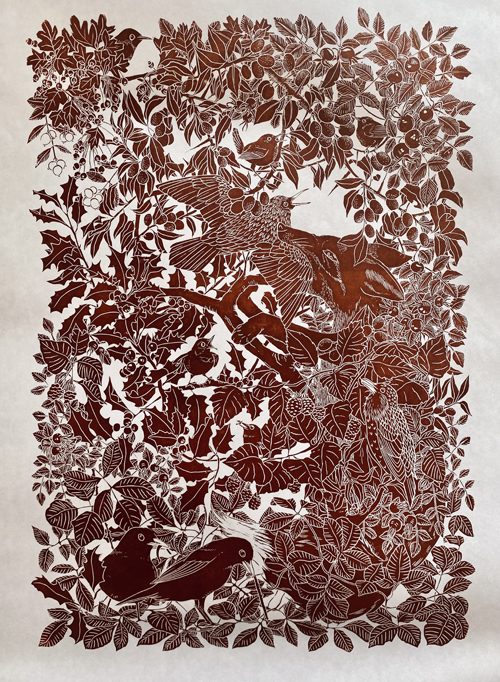 What have you made that you are most proud of?
The Hedgerow is still one of my favourite pieces. This is a perfect example of a print that I made up as I went along, and that I know the composition could be better, but I love how it just grew from a little corner of rosehips into this big wild piece! I also love the print 'A Wild God' inspired by the poem 'Sometimes a wild god' by Tom Hirons. Again, an unplanned print that kind of grew as I carved. I knew I wanted to put the poem into an image that told a story, and one that could be seen in any way without any knowledge of the poem.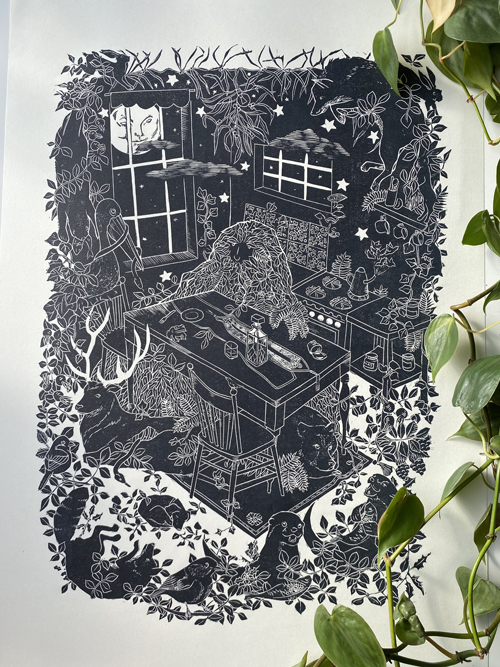 Where can we see your work? Where do you sell?
I sell my work on Etsy and I use Instagram to promote my work.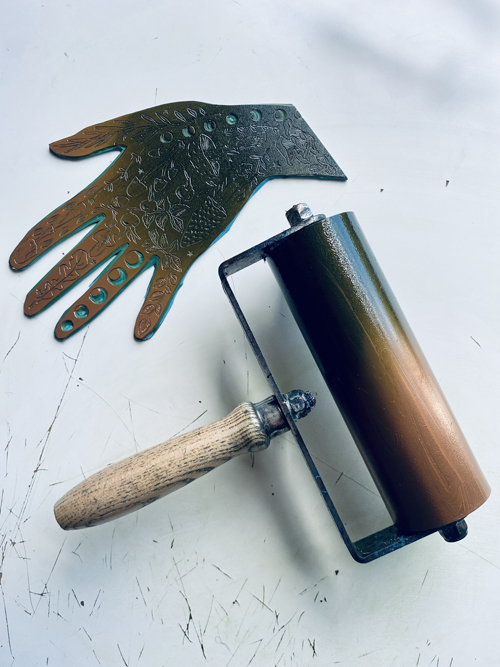 What will we be seeing from you next?
I have so many ideas in the pipeline. As I type this I'm still trying to finish 'The Secret Garden' piece, but I have a few ideas for prints based on more childhood films. I also have lots of ideas for prints based on some of my favourite music. I'm really eager to start on these ones as I haven't done any prints based on the music I listen to, and I'm really excited to see the outcome. I am also teaching myself how to do reduction prints, so I have a few of them that I'm still trying to finish!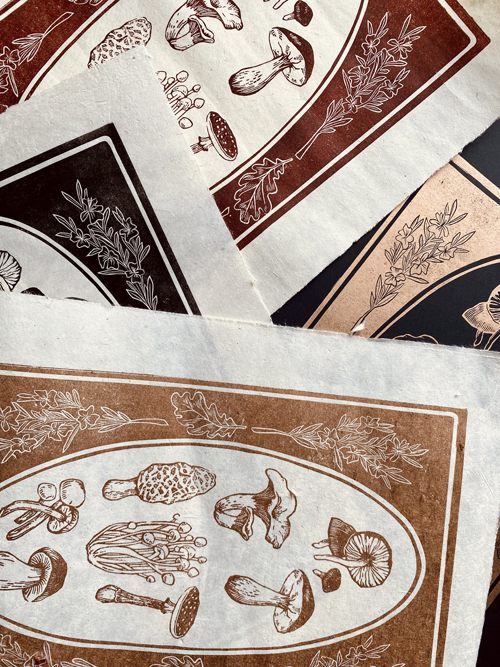 Do you have any advice for other printmakers and creatives?
Maybe to not just follow the work of other printmakers, although they are fantastic for guidance and inspiration, you need to find inspiration outside the printmaking world. I remember at the start I would create images that every other printmaker was creating because that's what 'sold on Etsy' and it's so easy to fall into this trap! Since then, I've just created work based on an aesthetic or idea that I'm interested in without really considering how "sell-able" it is. I would say that because of this, the quality of my work has improved a lot.
To see more from Sarah, follow her on Instagram.