Meet the Maker: Wayne Longhurst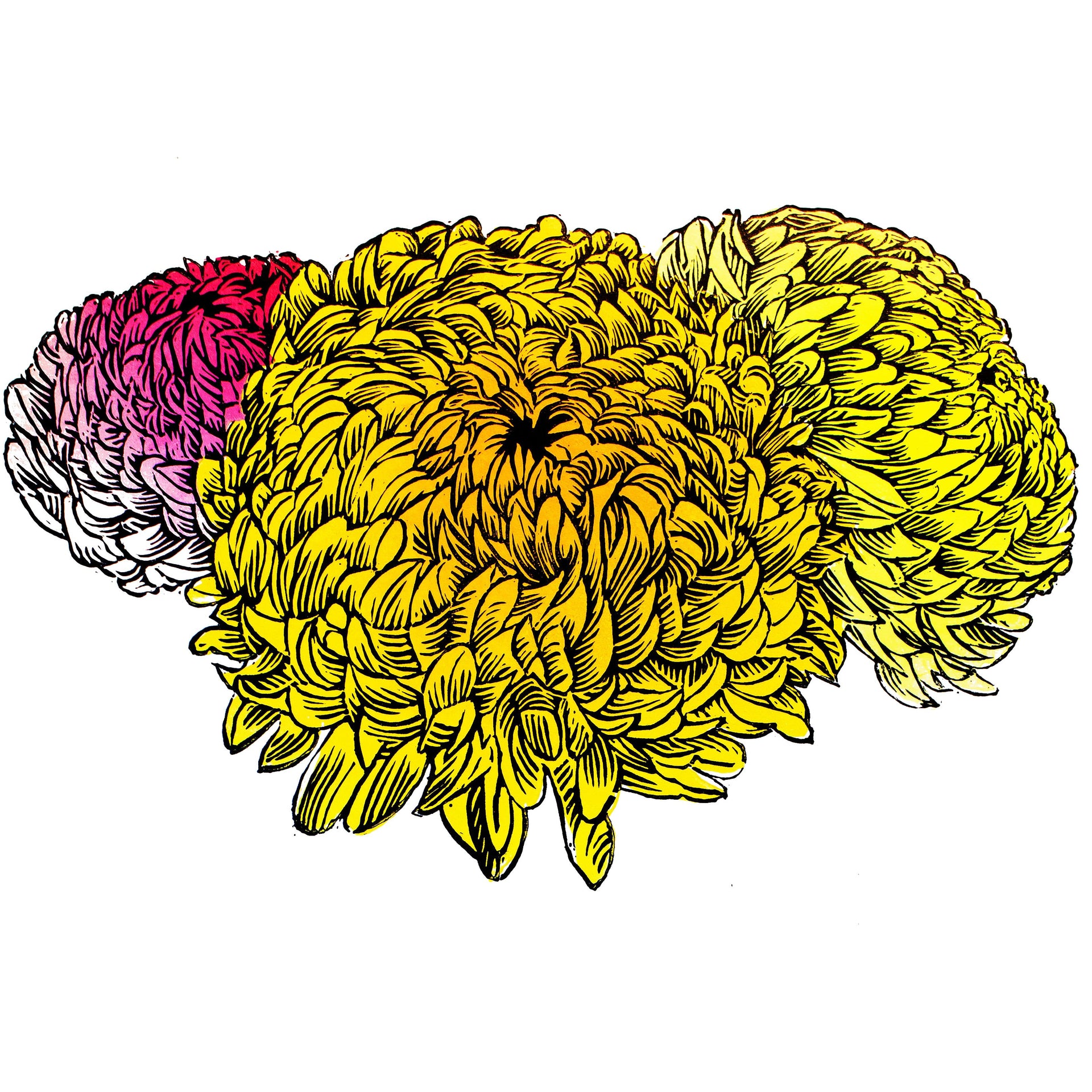 I am a Worthing based linocut printmaker. Born in Brighton, moving to Worthing in 2012, I've always been surrounded by the Downs and the sea, for which I am very lucky, if a little complacent of at times!
I love to get out and about to find inspiration for my prints, which lately has been trees! I've been taking a few walks up on the downs with my camera and or sketchbook. This time of year, the leafless trees are amazing structures and provide great inspiration for new carvings.
Recently I had a huge opportunity to spend much more time concentrating on printmaking, so I shall be embracing this with gusto! Fingers crossed…!
Describe your printmaking process.
One phrase that I keep on hearing when people see my work is that I 'must have the patience of a saint!'. I don't know about that (you should be in my studio when things don't go to plan…!!!), but I do like to print intricate designs and I love to see the end result.
I always like to challenge myself with each new print, so I like to try and think of ways of getting more detail into the print, either by using different colours (I do love a good blend!), or adding more layers (which may be via multiple plates of lino, or using the reduction technique).
I do like to get out and about each day, walking around town, on the seafront or up on the downs, with either my camera or sketch looking for inspiration for the next print.
How and where did you learn to print? Why Printmaking?
About 5 or 6 years ago I was on holiday in South Wales, and I ended up walking in and out people's houses… They had opened them for the local artist open house event. I met and got chatting to local artist Lee Wright, who, I discovered, made linocut prints. At the time I had never heard of the medium (I guess it skipped my generation at school…?).
He gave me such inspiration to give it a go myself. So, I bought myself a little starter kit from Amazon, and began to teach myself. Over the years I have picked up tips from other artists through social media and by attending local events or art fairs (not least the one held by Handprinted showcasing the work of Linocut boy a couple of years back).
It has been great learning the different techniques and processes, if a little scary at times, wondering or second-guessing how things will turn out. I'll admit, things don't always work, but that is just a part of the process. Brush my self down, and get on with the next challenge!
Where do you work?
I am so lucky to have the space at home to have my own little studio. It's a modest space, but certainly does the trick!
It certainly has evolved over the years, from the starter kit, to now having my own etching press and working space. It's wonderful, and never underappreciated.
Describe a typical day in your studio.
I have a mantra….you must turn on the laptop, and you must leave the house.
So, first thing in the morning (around 8am) I will have had my breakfast, and turned on the laptop. This makes me check my emails and keep up to date with anything that I need to do.
Once that's done I shall get on with the main interest of the day, which will generally be either; working on my latest print, updating my social media, my online shop, my website, or getting ready for an upcoming event (sometimes a little of all of the above).
There shall certainly be a lot of tea involved in the day (my fuel!), and of course the compulsory walk, to get some fresh air and, if I'm lucky, some inspiration!
How long have you been printmaking?
Around 7 years now. The first 3 or 4 of those I was just dabbling, and teaching myself different techniques, but over the last couple of years I began to take it more seriously, trying to get my work out there 'into the wild'.
What inspires you?
I do like to make sure that I get out and about daily (hopefully daily, but I don't always manage to…bad Wayne!).
Just going out for a walk, either down to the seafront, or up on the Downs will get the creative juices flowing. Either by what I see on my travels, or just having some down time to let my mind think of new ideas.
What is your favourite printmaking product?
My Pfiel tools (they're AWESOME!)
Oh, and Caligo safe wash inks are amazing!
What have you made that you are most proud of?
Is it corny if I were to say 'my latest print'…? It is corny, I know, but I am always proud of the latest print that comes together, just because of the effort that goes into it and to finally see it in its final form is great!
But, if I had to choose one of my prints, I would probably go for my 'Worthing Best' print. This was a commission from The Brooksteed Alehouse (a local micropub on South Farm in Worthing. If you haven't been there, go, it's great! This isn't an ad by the way!).
The owners wanted a print that represented Worthing but also suitable for their pub. I came up with the idea of a pump clip for a fictional beer 'Worthing Best'. They loved the idea…I just had to print it…
It ended up being my largest print (still is) at 60 x 42cm, and a 6 layer, single plate, reduction. I am glad to say that the owners loved it, and it is currently hanging up in their pub for all to see!
Where can we see your work? Where do you sell?
I currently have my work in an Artist Collective gallery in Tunbridge Wells (which is coming to an end on the 23rd March…boooo!). Other than that, I sell my prints via my etsy site.
What will we be seeing from you next?
Apart from new prints, I shall be at the Paper Daisy Easter Boutique at the Shoreham Centre on the 13th April and then the Fairy Tale Fair at the Charmandean Centre in Worthing, on the 14th of April. Come say hi!
I shall also be taking part in the INK event at Colonnade House in Worthing, which is an exhibition showcasing local printmaking artists. Very lucky to be a part of this! That runs from the 2nd to the 13th April.
For the first time this year, I am opening my house, taking part in the Worthing Artist Open house event (I have taken part before, but this is the first time at my own house). Over three weekends in summer; 15/16th June, 22nd/23rd June and 29th/30th June.
Do you have any advice for other printmakers and creatives?
I am currently attending an evening drawing class at Northbrook College. The tutor (Steve Carroll) has his own mantra which is 'just leave it!'. What he means is that if you make a mistake, then don't worry about it, just move on, live with it, and adapt to it. Make it work into your piece. Don't be so precious over every tiny little detail. That has really stayed with me, as it not only applies to drawing, but to printmaking too. If you happen to carve something away but you weren't meant to, just leave it! You cant undo it, so go with it. Sometimes it's really hard, but you have to.
So, whether it be drawing, or carving, if you do happen to make a tiny mistake, it's okay, just leave it. It'll be fine. The world won't end! It has taken a while for me to learn that, and I'm not 100% certain that I have completely yet, but I'm getting there!
My website; https://longhurstlino.com/
etsy; https://www.etsy.com/uk/shop/LonghurstLino
Instagram; https://www.instagram.com/longhurstlino/
Facebook; https://www.facebook.com/LonghurstLino/