Printfest 2018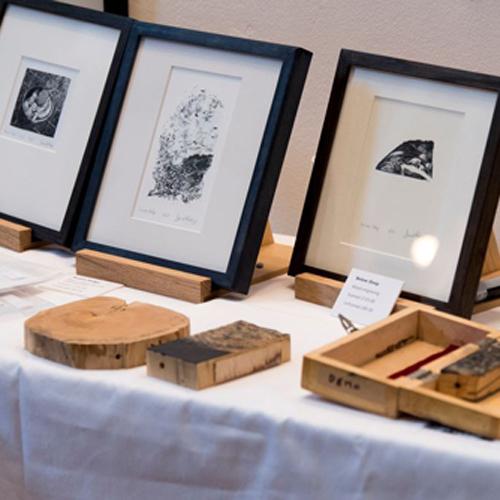 City of Gold by Gail Brodholt (image courtesy of Gail Brodholt)
Last weekend Shirley took the Handprinted pop up shop to Printfest. Printfest is an annual print fair
that takes place each year during the early May bank holiday in Ulverston in the Lake District.
This year saw 46 artists and one gallery take part. There is a huge range of printmaking techniques on display and the artists are all on hand to talk
you through how the prints are created.
An etching by Jamie Barnes – which is now hanging in my home!
Gail Brodholt was this year's Printfest Printmaker of the Year. On the Thursday night she gave
an inspiring talk about her printmaking practice. Showing us lots of prints and plates.
David Peduzzi is local to us and a frequent visitor to the shop so it was lovely to see him
there.
A close up of David's stand.
A view from above.
Laura Boswell was the lucky recipient of the Awagami Paper award at Printfest with this beautiful
double waterfall print. Laura is teaching a couple of Japanese Woodcut courses for us in October – for more details please click here Laura has also been recently been elected to the Royal Society of Painter-Printmakers so it is very exciting for us to have
her back with us. (photo courtesy of Ben Boswell – otherwise known as The Talented Mr B!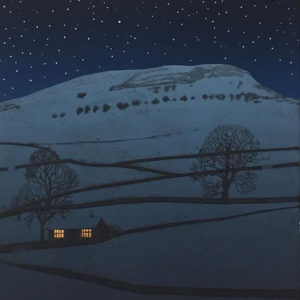 We were also really happy to meet Hester Cox who will be coming to Handprinted in June to teach
Collagraph Printmaking. (photo courtesy of Hester Cox)
Other highlights for me included Janis Goodman's prints – especially this one (photo courtesy
of Janis Goodman).
and Sarah Mander's etchings.
I have loved Frans Wesselman's work for a while now – still thinking I should have bought
this one!
To find out more about Printfest please click here. Next year's dates are Saturday 4th and Sunday 5th
May – hopefully see you there!
All photos are courtesy of Kate Kirkwood unless tagged.