Printing with Chine Collé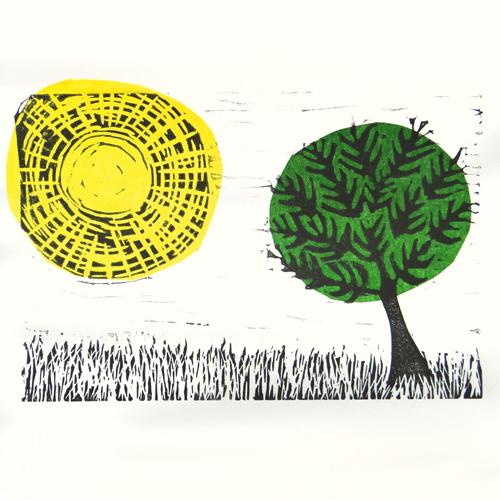 Chine Collé is a technique that allows you to add colour to your prints without making another block. Using Chine Collé you are able to print on much finer, more delicate papers which are bonded onto a more sturdy paper during the printing process. Japanese papers are often used but you can try tissue papers, maps, sheet music, even fabric – anything delicate enough to be printed onto.
Start by carving a linocut or woodblock. This is how our linocut prints without Chine Collé:
To adapt this block into a print suitable for Chine Collé, we carved out the sun to leave space for our yellow sun.
Cut pieces of thin papers (we used tissue paper) into shapes to fit your block. If you plan to frame, sell or give these prints as gifts; make sure that the papers you are using are light-fast – many tissue papers aren't.
Ink up your linocut as usual. We are using Caligo Safe Wash Relief Inks which are oil based (but water washable) and will stay wet on the block to give us time to prepare our tissue papers.
To prepare your papers, mix a little Rice Paste with water to make a thick syrupy texture. You only need a very small amount. Paint the glue in a thin layer all over the back of your papers.
Place your papers glue side up (this is essential!) on your inked up block. This part can be very fiddly so it can help to use tweezers or cocktail sticks to place the wet papers down.
Lay your printing paper on top and put through the press (or print by hand with a baren). Your tissue papers should have bonded onto your printing paper with your print over the top!
This technique also works beautifully with etchings and drypoint etchings!
To create a print with Chine Collé you will need:
Thin papers such as tissue paper
Scissors
Tweezers or cocktail sticks
Brush
Paper on which to print
Glass slab or Inking Tray