Relief Printmaking with Japanese Vinyl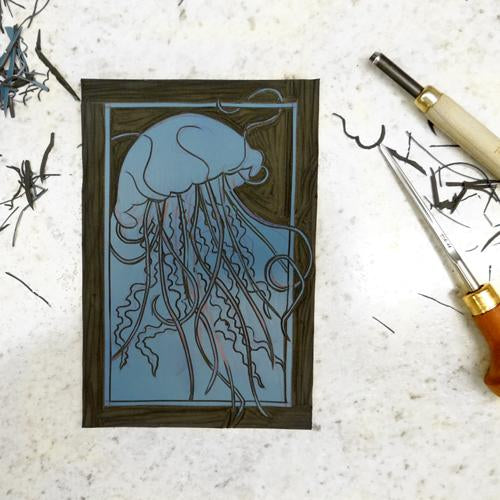 As soon as we received our first batch of printmaking vinyl we were keen to start gouging into it. This vinyl cuts beautifully and smoothly and can achieve very fine detail.
There is a blue side and a green side, both of which can be used for carving. The centre of the vinyl is black – this makes it really easy to see where you have carved and can help you visualise what your print will look like.
Here's a project we have made to show you how to use our new vinyl:
A variety of tools can be used on the vinyl. For this print, we used a combination of multi-blade wooden handled tools, Japanese carving tools as well as a fine Pheil tool.
We drew our design on using a biro but you can transfer your design using the Japanese Carbon Paper.
As you carve you will start to see the black layer underneath. This is very clear and will help you keep track of where you've carved. The surface of the vinyl is very smooth so carving curves is a dream. The edges don't crumble or snap off and there's no stretch to distort your lines.
Our finished design is very clear. It's easy to see any missed parts.
We used Cranfield water-based relief printing inks and rolled out a blue to pink graduation.
We printed onto the smooth side of Ho-Sho paper with a bamboo baren.
Our prints came out beautifully!
To try printing with vinyl yourself, you will need: