Screen Printed Wedding Invitations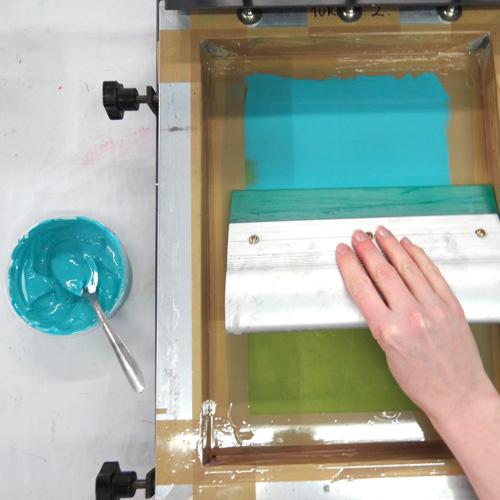 Our studio at Handprinted has been buzzing recently – we've had screen printing classes, dyeing sessions and social groups with plenty of cake. Valentine's Day presents have been printed, T-shirt businesses launched and duvet covers given a new lease of life. Here's a little update on one of the lovely projects made in our studio recently:
My sister is getting married this Summer so naturally, having Handprinted's fabulous studio at my disposal, I was tasked with making the invitations! This seemed the perfect opportunity to show off to friends and family with
Three Layer Registered Screen Printed Invitations
80 of them. Overly ambitious? Maybe.
Above is one of the final prints and here's a sneak peak into how they were made:
I started with the design. It was hand drawn in Adobe Photoshop and then condensed down into three layers: one for each colour. Each layer was printed onto acetate and used to make a screen.
I used 90T mesh on an A4 Aluminium Screen so that a high level of detail could be achieved. All three screens exposed and washed out really well using Diazo Photo Emulsion and Sensitiser. We've had ours mixed and stored in the fridge for a month or so, and it's still working perfectly. Here is the first screen in our A4 print bed.
I used the acetate to register the print onto the card and mark out where each piece of card would go. To see this registration process in more detail, watch this video of a layer being printed.
The first layer was printed in a lovely Ivory. All the inks used were made by mixing Acrylic Screen Printing Medium with System 3 Acrylic Paints in a 50:50 ratio.
All 80 invitations were printed with the first layer. The names and date came out perfectly – phew!
The next day I printed the second layer in a gorgeous Turquoise!
And finally, the third layer in a very dark Navy. See this layer being printed here.
All three layers together:
Ready to be written and posted!
If you'd like to use our Bognor Regis studio for one of your own projects, or to learn a new printing or dyeing skill, click here, call 01243 696789 or email shop@handprinted.co.uk.
Oh! and we couldn't resist filling the invitations with goodies stamped with hand carved MooCarve stamps and VersaCraft Ink Pads.