Meet the Maker – Jane Walker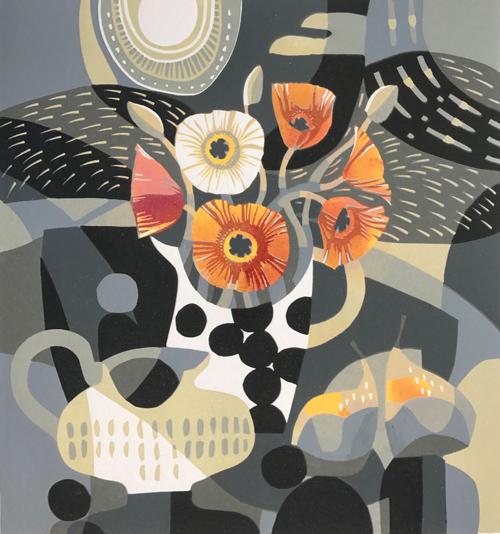 Jane studied illustration and printmaking at Duncan of Jordanstone College of Art in Dundee before following a career in design at the BBC in London.
She has now come full circle and returned to her first love, printmaking and particularly lino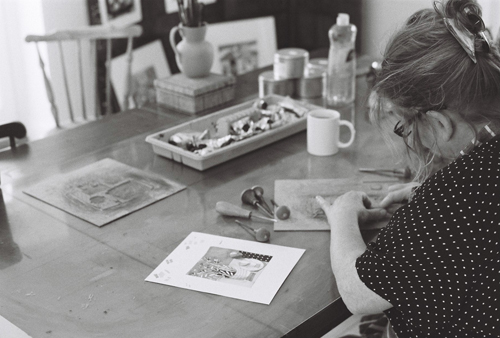 Describe your printmaking process.
I start with a sketch to work out composition and colour combinations then draw straight onto the lino with a permanent marker – the resulting print is flipped but I quite like the element of surprise.
Using the reduction lino technique involves cutting each layer from a single block and printing the first colour on each sheet of paper in the edition.
Mostly I start from the lightest colour to the darkest, by the time you get to the final colour there is no lino left, so you can't go back and reprint.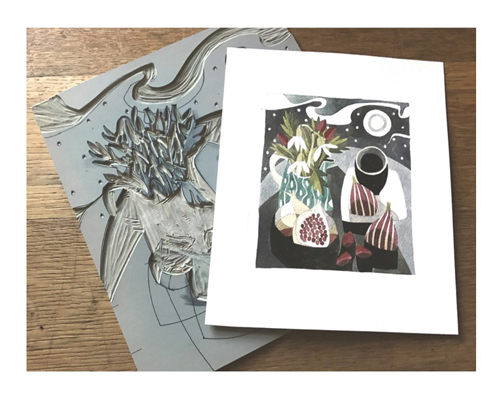 Editions are inevitably small, I try and start off with 14 hoping to salvage 12.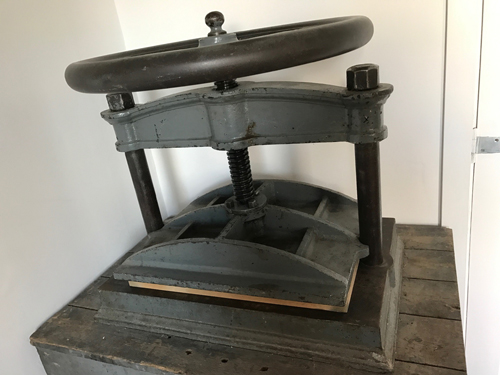 I currently use a table top book binding press but I do have a beautiful Columbian press waiting in the wings in storage until I have the space and access as it is very tall and weighs tons.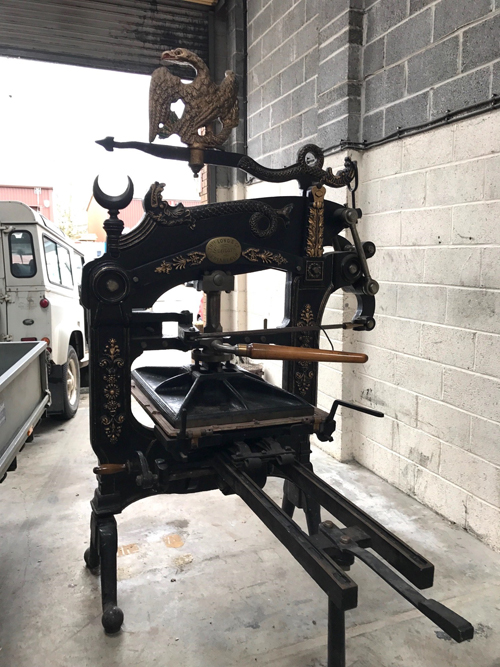 How and where did you learn to print?
After a general year at Duncan of Jordanstone College of Art & Design in my home town of Dundee I plumped for illustration because I thought I might get a job at the end of it.
Discovered linocut on a printmaking introduction module and fell in love.
I got to spent my final post-grad year doing nothing but lino – bliss.
Then I worked as a designer (not an illustrator) and ending up as Creative Director of Design at the BBC in London and didn't touch a palette knife for 25 years.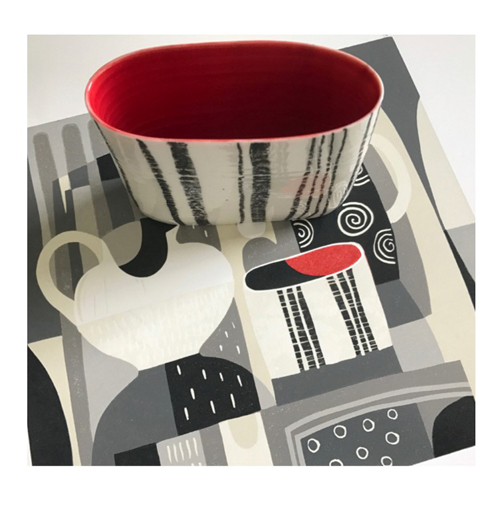 Why Printmaking?
Printmaking is so very different from the digital design world that I came from. Returning to it I initially found quite difficult, without a brief to work to. I loved the craft of it but had no clue as to content.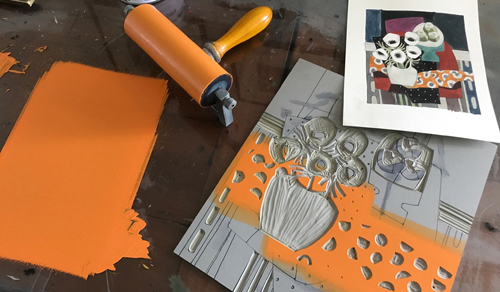 In drawing the things around me I found my inspiration and discovered a love of colour and composition.
The actual process is physical, it's tactile, it's messy and you can get your hands dirty.
Once you start the emerging print seems to take on a life of its own and I just go with it.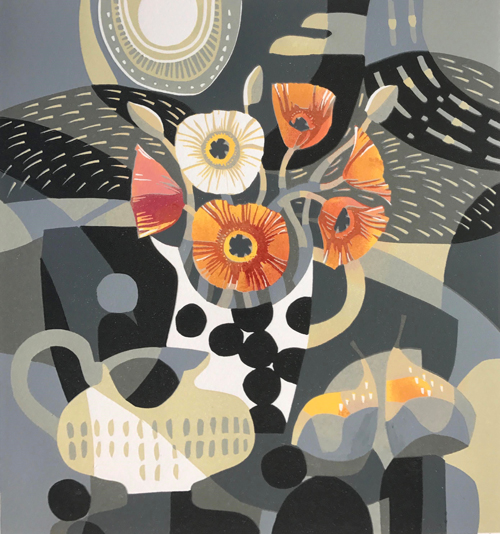 Where do you work?
My studio is at home in what used to be the front bedroom – it's quite a small space so I have to be very tidy and organised but I do have a lovely old drying wrack hanging from the ceiling which makes for more room as well as a nice display.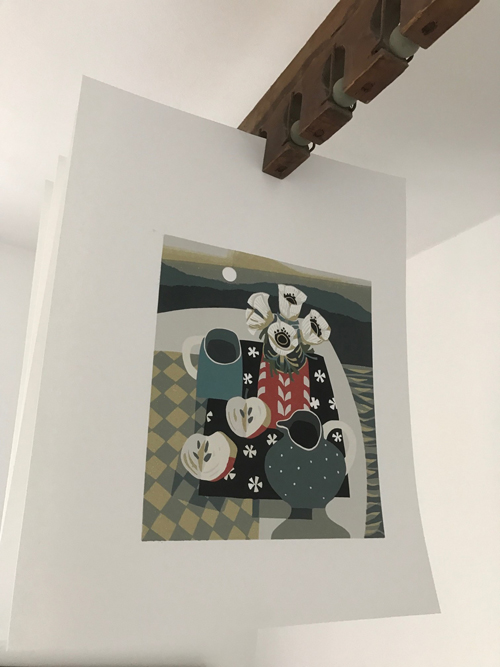 Describe a typical day in your studio.
Working at home means I don't have far to travel, so coffee with emails and then maybe a bit of twittering and posting before the fun bit, cutting, mixing inks, rolling it onto the block, printing and crossing fingers.
I usually take time out of the process to collect inspiration and I do make hundreds of sketches in between times.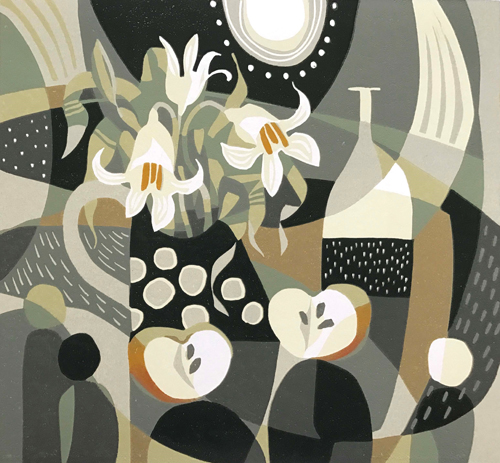 What inspires you?
I am fascinated with still life and the relationship between objects and space.
My background has given me a strong graphic sensibility and my colour palette reflects a love of 20th Century Artists: Braque, Matisse, William Scott, John Piper, Ben Nicolson and Mary Fedden.
Also Mid Century Printmakers, Designers and Craftsmen: Edward Bawden, Enid Marx, Stig Larsen, Jean Lurcat, Robert Stewart, Stephen Russ, Abram Games and all kinds of ceramics (but especially jugs)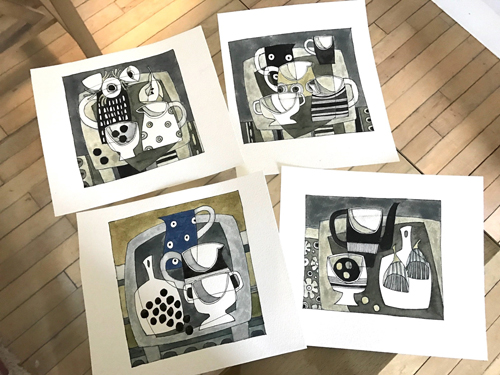 What is your favourite printmaking product?
My favourite three things are an antique drying rack, a Columbian Press and a pair of corked soled sandals that are very comfortable and give me just a bit more height so that I can place the paper accurately onto the registration block.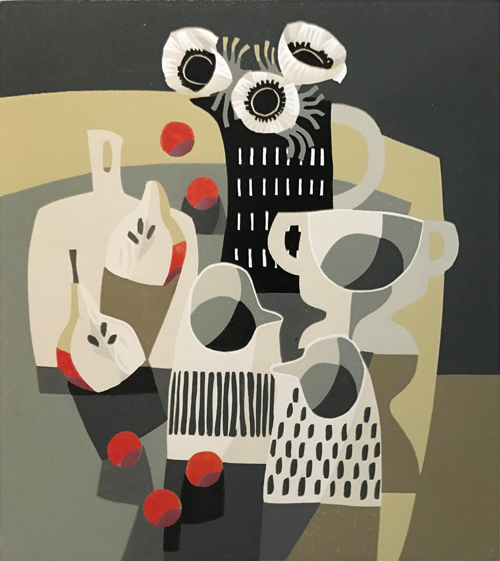 What have you made that you are most proud of?
Best moment usually comes about halfway through my latest print – when there is still the expectation that this one will be perfect.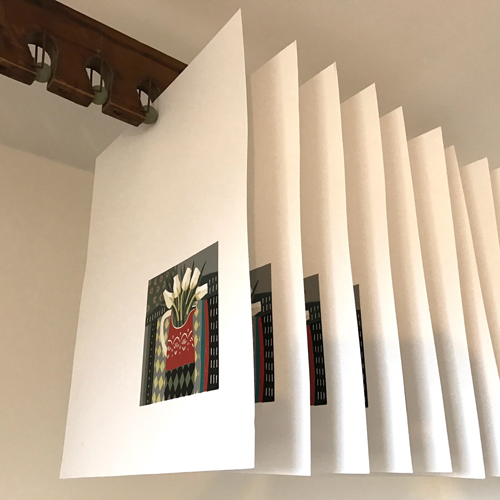 Where can we see your work? Where do you sell?
Prints are displayed on my website along with a list of galleries and upcoming exhibitions.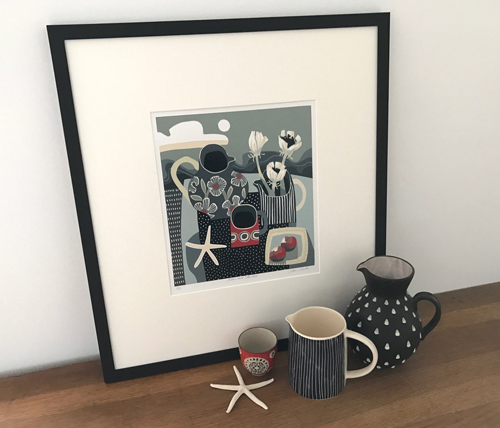 What will we be seeing from you next?
I get a lot of inspiration from ceramicists and recently made a couple of prints featuring work by Katharina Klug.
Cambridge Contemporary Art will be exhibiting some of my prints with vessels by Katharina also prints by Angie Lewin and willow sculptures by Lizzie Farey from 5 – 27 October. I am really looking forward to being in such good company.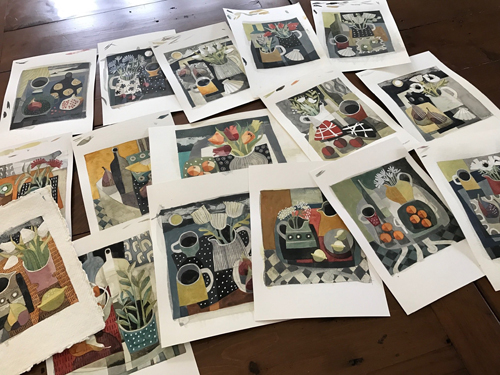 Do you have any advice for other printmakers and creatives?
If you finish a print and aren't entirely happy with it, put the edition away in a drawer – it usually looks much better after a few weeks (not always though).
When it seems that everything you touch is a disaster just keep going, don't stop and then get out there and be inspired by what other people are doing.
Website: https://www.janewalkerprintmaker.com