Meet the Maker: Marigold Plunkett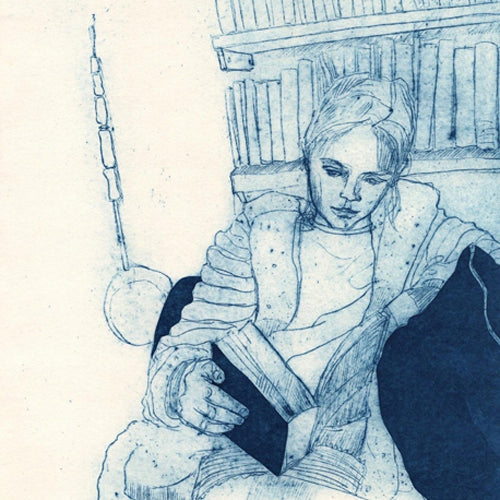 I'm a figurative artist, working mainly in intaglio printmaking and painting. I graduated from Camberwell College of Arts, UAL, with an MA in Printmaking in 2020. I have an etching in the Ingram Collection and was awarded the Pegasus Art Prize at the Bath Society of Artists summer exhibition this year. I live in a small village near Tunbridge Wells and I'm lucky enough to have my studio at the end of the garden. Having a studio at home means I've always been able to fit my practice around being a mother and more recently, teaching. I'm also a technician for Artichoke Print Workshop in London and I help with editioning, which I find incredibly rewarding and it's great to be around other professional printmakers.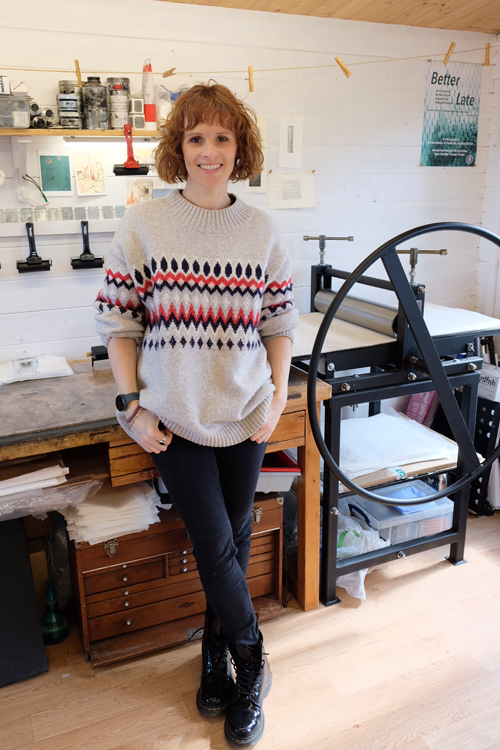 How and where did you learn to print?
I discovered etching when I was still at school. I completely loved the process of intaglio printmaking. It's a special kind of alchemy; you never quite know what you're going to get at the end. I did an undergraduate degree in Social Anthropology and didn't get an opportunity to return to etching until after I had children in my mid-twenties. I attended a few evening classes over a couple of years and decided to commit to an MA in 2018. Camberwell College has excellent technicians and the MA completely changed the way I approached printmaking. I set up a press in my studio as a result, and I've really not looked back.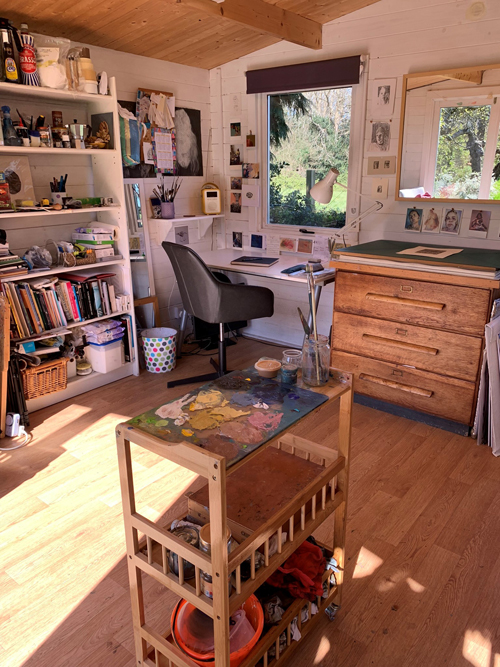 Describe a typical day in your studio.
A typical work day starts after I've walked my two lurchers, who can usually be found milling about my studio, getting under my feet. I have to be super organised when I'm etching and printing because my space is quite compact and the different stages in etching mean you need quite a lot of space for the varied processes. I have an area for my mordant, a space dedicated to inking, which is right next to my press and an area where I have a water bath to soak my paper. I also need a surface to stack and weigh down my prints once they're finished so they dry flat, which also doubles as my cutting area.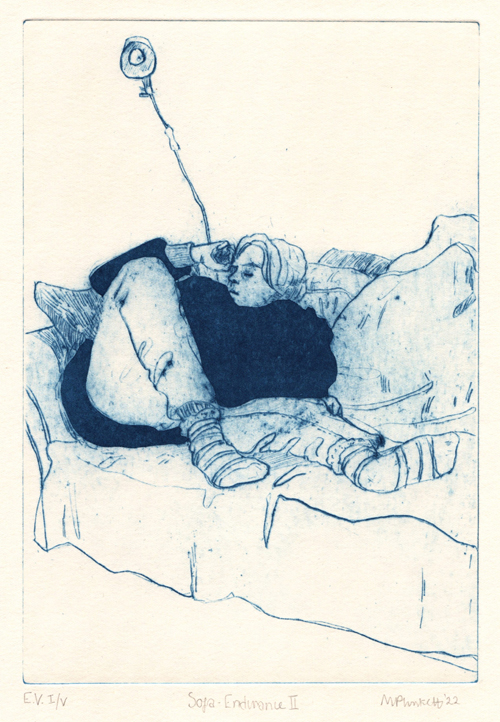 What is your favourite printmaking product?
I use a variety of inks and paper, depending on what I'm printing, but for me, nothing beats Charbonnel on Somerset paper. However, when I'm in my studio at home I often try different papers and inks to get the best results from my press. Recently I produced a series of dry-point etchings printed on Somerset Soft White paper using a Prussian blue soya-based ink called Akua.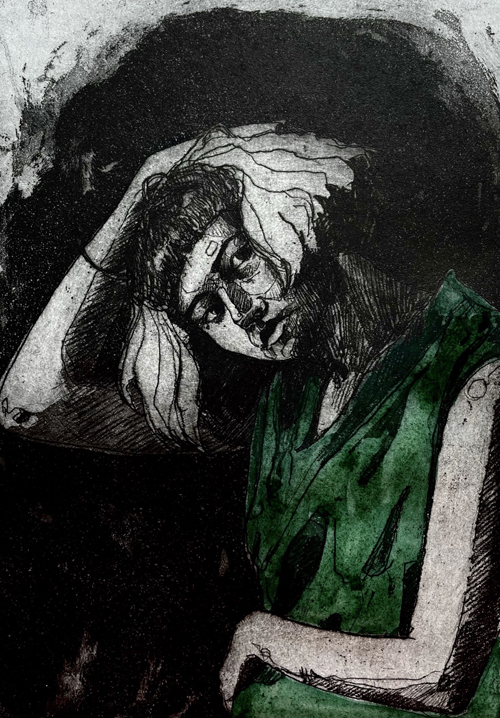 Where can we see your work? Where do you sell?
Several of the 'Sofa Series' are currently hanging at the Four Boroughs Coffee House at the Coldharbour Works, which is right next to Artichoke Print Workshop. I've also got two monotypes showing in an exhibition in September at the Crypt Gallery in Euston, London. And in November you can see my etching, 'I am, Annie' at the Woolwich Contemporary Print Fair. It's a real print fest and not to be missed!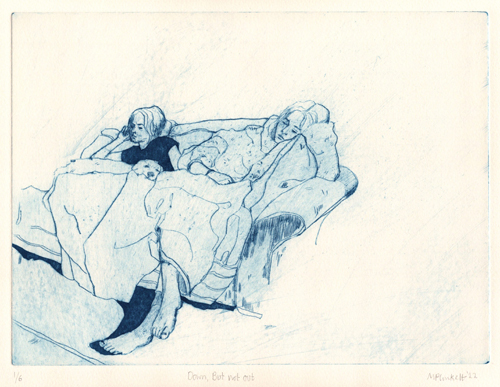 What will we be seeing from you next?
The 'I am' series is still in development, but they're all etchings, based on strong female protagonists. If you'd like to see the complete listing of the Sofa Series or be the first to see the completed 'I am' Series, please join my mailing list, via my website.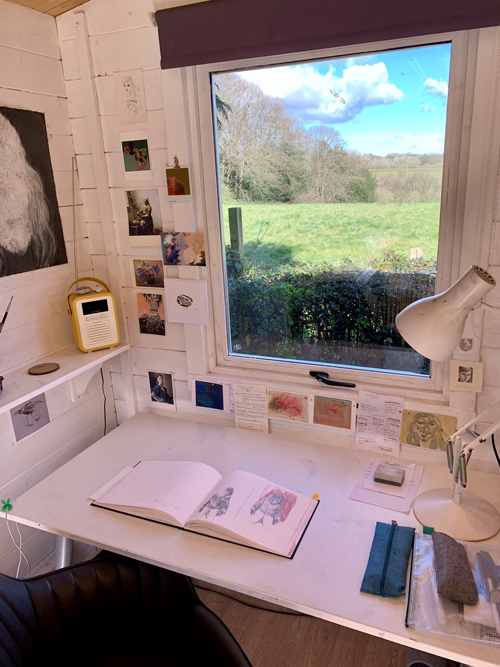 Do you have any advice for other printmakers and creatives?
I always encourage new printmakers to try and embrace the unexpected in their prints. You rarely come out with what you started with in your imagination and it's far more rewarding to work with what the plate presents you, rather than fighting the process.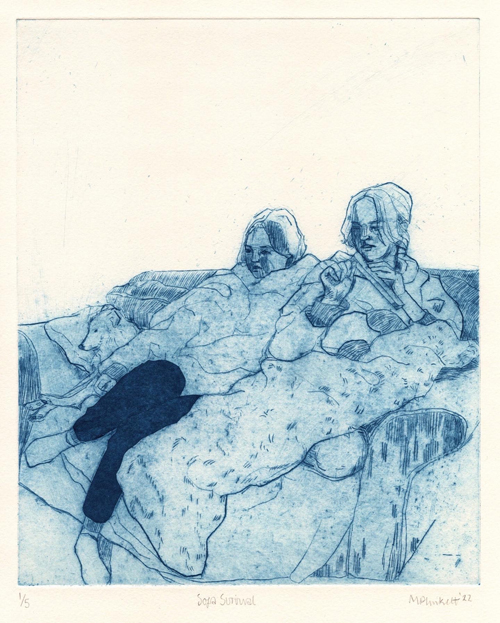 To see more from Marigold, follow her on Instagram.