Meet the Maker: Nick Morley (with giveaway!)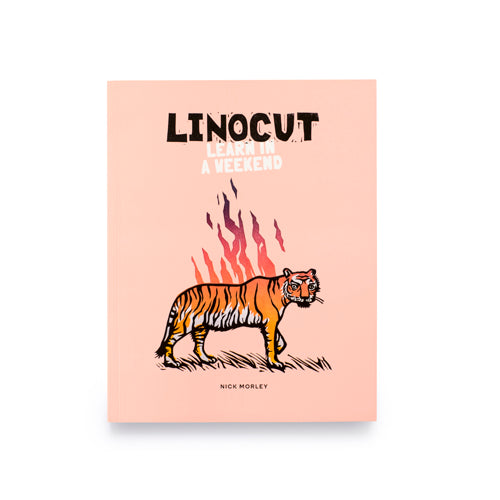 Nick Morley, aka Linocutboy, is an artist, illustrator, author and educator specialising in linocut. His prints have been bought by people all over the world and his illustrations have appeared on book covers and in magazines. Nick teaches regular linocut workshops at Hello Print Studio in Margate, which he set up in 2013. He has written two books: Linocut for Artists and Designers (Crowood 2016) and Linocut: Learn in a Weekend (Skittledog 2023). He also shares insights into his working practice and advice for others through his Instagram and YouTube accounts.
Tell us about your new book
Linocut: Learn in a Weekend is a fun, accessible book aimed at those people who want to have a go at linocut but don't know where to start. It includes a section on materials, plus guides to carving, printing, registration and mixing colours. What makes it unique is the nine projects which are included. Each project has one or more templates to trace from the page onto the lino, making the whole process very straightforward. The projects get more advanced as you progress through the book, with the later ones offering more of a challenge for linocutters with some experience. These include techniques like colour blends, multi-block printing and jigsaw technique. Each project can be completed as it is or can be adapted or developed in different ways. There is also a useful trouble-shooting guide, so you know what to do when things go wrong.
How and where did you learn to print?
I learnt the basics of etching and screen printing at art school, then continued to take classes once I graduated. I got a lot of pointers from other artists at East London Printmakers, where I was a member for ten years. With linocut, I mostly taught myself.
Why printmaking?
I find linocut a very versatile artform. Historically, people have seen it as this graphic medium, resulting in crude black and white designs, but in recent years there's been an explosion of interest and people have developed many different ways of making linocuts. You can create clean hard edges or expressive marks, layers of subtle transparent hues or strong bold colour. By altering the way you ink and print a block you can lay down the ink in a flat, even surface or a mottled, textured finish. Every time I develop a print I discover something new. There's also this feeling that you're not 100% in control of the results. The printing process always brings something extra to the work, so you can't be too uptight, you have to relinquish part of it to serendipity.
Is there a story behind the name Linocutboy?
Linocutboy was a pseudonym I used on the Guardian Soulmates dating website (where I met Catherine, my partner) and after that it just stuck. It's great for Google searches too! I'm probably a bit old for it now but Linocutmiddleagedman isn't as catchy. I use Linocutboy online but in real life please call me Nick!
Where do you work?
I work at Hello Print Studio, which is part of Resort Studios in Margate. I was a founder member of Resort and I set up Hello Print Studio so I could run workshops and make prints alongside other people. We have facilities for relief printing, etching, screenprint and letterpress. It's a fantastically creative space. I work surrounded by other artists and illustrators, as well as fashion designers, photographers and other creatives. In 2021 we moved to a new space at Dreamland, a heritage theme park. As I arrive for work each day I am greeted by the sight of the wooden rollercoaster and giant ferris wheel. It's a unique and inspiring location for a printmaking studio. And at lunch time I can walk on the beach and eat ice cream!
Describe a typical day in your studio.
Every day is different. I might be carving lino or printing, working on an illustration commission, teaching, packing up prints and books to send off or doing admin. I'm also a Director of Resort, so some of my time is taken up managing that. We have thirty members and there's always something to do. I try to draw every day, even if it's last thing at night.
How long have you been printmaking?
I graduated in 1999, so you can work it out!
What inspires you?
Old photos and posters, dusty museums, nature and nature documentaries, children's books, living artists like Swoon and dead ones like Thomas Bewick and Ulysse Aldrovandi. Most of all, being a parent.
What is your favourite printmaking product?
I use Caligo inks which are great for transparent layers of colour, and they wash up with water. I only really use the three primary (process) colours: yellow, magenta and cyan, plus black, opaque white and extender. I mix pretty much all my colours from those six. I also love my Hawthorn ink rollers, they're just lovely to use.
What have you made that you are most proud of?
Honestly, I'm just happy to still be making prints. Each one has its own challenges, plus my mental health struggles mean I have periods when I am not functioning properly and it's very hard to make anything. I know a lot of creative people who have similar issues and I think it's important to talk about openly, even if it makes me cringe. I always feel like I should be more productive, but when I look back on what I've achieved over the years I guess I've done alright. The thing that gives me most satisfaction is when I get a message or a comment from someone who was inspired to make linocuts after seeing my work or reading my books. That is a pretty special feeling.
Where can we see your work? Where do you sell and teach?
My website, plus I'm very active on Instagram where I post lots of photos of my studio, work in progress and random insects I find. I sell through For Arts Sake in London and Kill Me Now Gallery in Margate. Workshops at Hello Print Studio and occasionally other venues, which I list on my website.
What will we be seeing from you next?
Who knows? I'm very good at having amazing ideas and not following through on them. I do have a long-term plan to make a children's book though.
Do you have any advice for other printmakers and creatives?
Keep at it. Practice is so important. You can only develop as an artist by regular practice. Make lots of bad work.
Experiment. Make mistakes. This is the best way to discover new ways to do things and to develop strong ideas. Try not to be precious about what you make.
Travel, have fun, play, discover. That sounds like a cheesy tagline for a multinational corporation, doesn't it? But if you don't feed your soul how can you make good art? It doesn't matter what you're into, delve deeply into it.
Research other printmakers. Many of us are happy to share our process and give advice. Go and look at prints in the flesh. We consume so much through our screens but prints are physical objects and you need to see them at the right scale and in detail. The British Museum has a print room where anyone can go and look at their collection but wherever you live, try to go to exhibitions or print fairs.
We've teamed up with Nick to offer an exciting giveaway to celebrate the release of Linocut: Learn in a Weekend!
There are just 3 books up for grabs! To enter, simply follow us, Nick and @skittledogbooks on Instagram & like our giveaway post.
The giveaway will close on the Thursday 15th June. We will then randomly select a winner which will be announced on Friday 16th June. *UK ONLY.